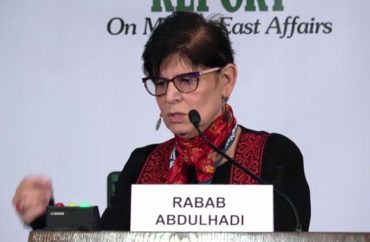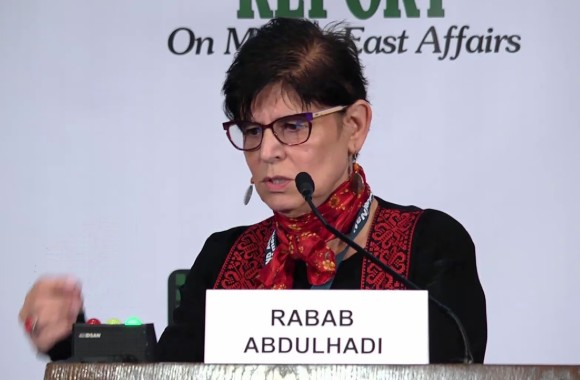 Georgina M. Smith Award recognizes her work on 'militant initiative'
Rabab Abdulhadi is a familiar name to College Fix readers. Thanks to the American Association of University Professors, the San Francisco State University professor's profile is growing.
The academic group named Abdulhadi one of three recipients of its Georgina M. Smith Award for "exceptional leadership in a given year in improving the status of academic women or in academic collective bargaining and through that work improved the profession in general."
The professor (above) accused her university president of making "a declaration of war against Arabs, Muslims, [and] Palestinians" for reversing his silence on whether pro-Israel Jews are welcome at SFSU. Abdulhadi, director of the Arab and Muslim Ethnicities and Diasporas program, published the statement on the Facebook page for her academic unit, leading one pro-Israel group to accuse SFSU of chilling Jewish student speech.
Last year a UCLA professor invited Abdulhadi to speak to her class, leading to an exchange with a Jewish student that ended with the guest lecturer calling Israel supporters "white supremacists" who want to "ethnically cleanse the Middle East," according to the student.
Years earlier, California taxpayers covered Abdulhadi's trip to visit convicted terrorists on a junket to the Middle East.
MORE: UCLA investigating professor for inviting Abdulhadi to address class
The AAUP statement on Abdulhadi was glowing:
Rabab Ibrahim Abdulhadi exemplifies courage, persistence, political foresight, and concern for human rights, including union organizing, gender and sexual justice, in her scholarship, teaching, public advocacy, and collaboration with a diverse group of academic, labor, and community organizations. Her commitment to global scholarship that builds mutual understanding is evident in the collaborations she has initiated. As a director of the Arab and Muslim Ethnicities and Diasporas Studies Program she brings together scholars, activists, academics, and organizers to create justice-centered knowledge, build broad-based coalitions, and advance the agenda for social change in Palestine, the United States, and internationally. Her leadership transcends the division between scholarship and activism that encumbers traditional university life.
Abdulhadi's program at SFSU is touting the award, saying that its director "inspires an advocacy campaign against the increased influence of Zionism over academic institutions and policies in the US." It posted a similar statement in Arabic that describes her Teaching Palestine project as a "militant initiative," according to Google Translate.
UCLA Prof. Judea Pearl, who renounced an award from his alma mater New York University after it gave an award to Students for Justice in Palestine, tweeted that Abdulhadi had also called him a "white supremacist."
A lecturer who called me "white supremacist" was given an award for "leadership" that "transcends the division between scholarship and activism" by @AAUP, an organization claiming to "protect quality higher education." Read: https://t.co/lwAIv2NjJU@AAUPUC Dear Mr. Orwell, ….

— Judea Pearl (@yudapearl) May 23, 2020
MORE: Calif. taxpayers pay for SFSU professors to meet with convicted terrorists
Pro-Israel groups denounced AAUP for honoring Abdulhadi, Jewish Journal reports.
"This professor has personally targeted a Persian Jewish student who objected to her equating Zionism to 'white supremacy'" and "actively worked to marginalize the vast majority of Jewish students," said Carly Gammill, director of StandWithUs's Center for Combating Anti-Semitism, demanding AAUP "rescind this award immediately and apologize."
Tammi Rossman-Benjamin, director of the AMCHA Initiative, mocked AAUP for calling the "division between scholarship and activism" a hindrance to university life:
[That division] ensures students receive an education based on scholarship, and it protects our vulnerable youth from being politically indoctrinated by activist professors who attempt to weaponize their course curricula and advocate for personal political missions, like [boycott, divestment and sanctions] BDS, in the campus square. …

Commending professors who use their classrooms and positions to promote politics, and in turn encouraging others to join this activism army, is disturbing and dangerous.
This 👇 is appalling. What a terrible selection & poor choice @AAUP! Sadly, @SFSU Prof. Abdulhadi has worked against inclusivity on her campus & has sowed division & polarization. She has a long history of demoralizing #Jewish, #Zionist students! 😢😩 https://t.co/KHxLObljpZ

— Miriam F. Elman (@MiriamElman) May 22, 2020
Read the AAUP award page and Jewish Journal report.
MORE: Ethnic studies department slams president for welcoming 'Zionists'
MORE: University vilifies Jewish professor for criticizing Hamas
MORE: Pearl renounces alumnus award after NYU honors SJP chapter
IMAGE: Washington Report on Middle East Affairs/YouTube
Like The College Fix on Facebook / Follow us on Twitter