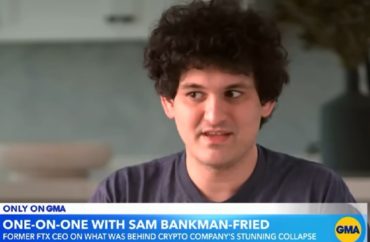 Liberal academics are standing behind a crypto CEO accused of stealing billions of dollars
Stanford Professor Larry Kramer may direct a foundation that pours millions into "reimagining" capitalism, but he has a soft spot for multi-billionaire cryptocurrency CEOs accused of stealing billions of dollars from customers.
The retired professor now directs the William and Flora Hewlett Foundation, a wealthy nonprofit funded with money from the Hewlett family of Hewlett-Packard fame.
A $10 million grant to Columbia University in 2022 promised to "draw faculty from across the university to reimagine an economy that is fairer and more inclusive."
One way Professor Kramer ensured that the economy was made more "inclusive" is by helping disgraced FTX CEO Samuel Bankman-Fried and Democratic Party megadonor stay included in society and out of prison by posting a $500,000 bond for him.
The Daily Wire reported:
Court documents showed that Larry Kramer, the dean emeritus of Stanford Law School and president of the William and Flora Hewlett Foundation, and Andreas Paepcke, a senior research scientist at Stanford University, were the two individuals who secured the bond. Kramer signed a $500,000 bond, while Paepcke signed a $200,000 bond; Joseph Bankman and Barbara Fried, the parents of Sam Bankman-Fried and former Stanford Law School professors, also secured the bond with the equity in their northern California home.
Kramer told CNN that he supported Bankman-Fried (pictured) due to the long friendship he had with his parents. "During the past two years, while my family faced a harrowing battle with cancer, they have been the truest of friends," he told CNN.
The Hewlett Foundation also poured millions of dollars into research centers for work such as Harvard University's "Reimagining Capitalism" think tank. The 2022 grant was part of a broader $40 million infusion of cash for MIT, Howard University, Johns Hopkins University and the Santa Fe Institute, as The College Fix previously reported.
Bankman-Fried's parents are both liberals who took some time off this semester after criminal investigations began into their son's activities.
Professor Bankman has consulted with Senator Elizabeth Warren on tax legislation and also served as a legal adviser to FTX, though it does not appear he currently is facing any allegations personally, as The Fix previously reported.
Fried runs a liberal political action committee.
MORE: Black Marxist scholar finds out she is descended from slave owner
IMAGE: GMA/YouTube
Like The College Fix on Facebook / Follow us on Twitter