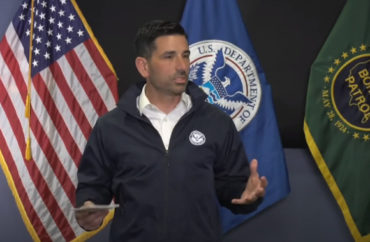 Acting Homeland Security Secretary Chad Wolf has announced the creation of a new Academic Subcommittee within the Homeland Security Advisory Council. According to a statement, Wolfe said the new subcommittee would "address matters at the intersection of homeland security and the academic community."
In an internal memo written to Homeland Security Advisory Council Chair William Bratton on August 17, Wolf directed the new subcommittee to provide advice and recommendations on matters related to student and recent graduate recruitment, international students, academic research and faculty exchanges, campus resilience, and homeland security academic programs.
The directive comes as a number of professors and researchers have been arrested or indicted in the past few months for keeping their entanglements with the Chinese government secret. Researchers at universities such as Harvard University, West Virginia University, the University of Arkansas, Ohio State University, and Emory University have recently been apprehended based on their connections to Chinese talent recruitment programs.
At a speech in July, FBI Director Christopher Wray warned of the infiltration of Chinese talent programs on American college campuses, saying "American taxpayers are effectively footing the bill for China's own technological development."
"China then leverages its ill- gotten gains to undercut U.S. research institutions and companies, blunting our nation's advancement and costing American jobs," said Wray, adding, "We are seeing more and more of these cases."
According to Wolf, the Homeland Security Council subcommittee will be charged with:
-The threat of malign foreign influence in our academic institutions.

-The openness of research and exchange of ideas between academia and DHS, to include DHS research programs.

-Promoting campus resilience resources to address threats affecting K-12 and higher education institutions.

-International student engagement as it relates to immigration; and

-Monitoring student visa recipients who violate their status.
The Homeland Security Council was created by President George W. Bush following the terrorist attacks of September 11, 2001. The Council is charged with, among other things, "the implementation of specific strategies to detect, prepare for, prevent, protect against, respond to, and recover from terrorist threats or attacks within the United States."
According to Wolf's directive, the first of the committee's series of recommendations are due to the full Council no later than 180 days from the date of the subcommittee's formation.
MORE: Texas A&M professor arrested for hiding his relationship with China
IMAGE: YouTube
Like The College Fix on Facebook / Follow us on Twitter