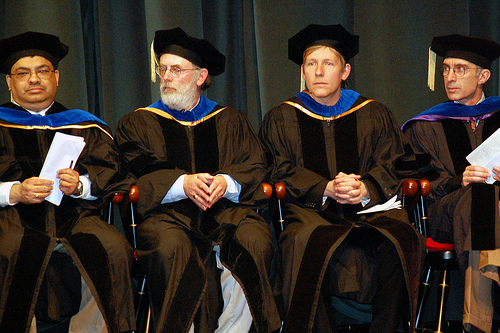 Controversial legislation in California that would require professors to serve their community in some way to earn tenure has prompted concern across the spectrum, from conservatives who claim it would reward professors' leftist political activism to educators who complain it's an unnecessary burden.
Assembly Bill 2132, passed by the California legislature in late August – largely down party lines with Democrats in favor – seeks to add a third category to the requirements of tenure, that of "service." The two existing categories are "teaching" and "research."
The bill, if approved, would require the California State University system and strongly encourage University of California regents to develop and adopt tenure policies aimed at rewarding community service. The bill now sits on Governor Jerry Brown's desk, awaiting a verdict.
The bill defines service as "serving on community boards and committees, engaging in civic activities, working in outreach programs developed to promote cultural diversity in the student body, consulting with governmental or nonprofit agencies established to address student and community needs, developing programs for underserved populations … (and) other service activities that are focused on improving the health and well-being of society."
The bill was sponsored by Assemblyman Ricardo Lara, D-Bell Gardens, and has prompted some controversy in both the political and educational arenas.
The office of Assemblyman Lara has claimed that the bill was needed because some faculty members did not feel their service activities were credited enough or fully considered by university administrations with regard to promotions and tenure.
There's good reason for this, claims Dan Walters in his assessment of the bill. Walters is a renown and respected Sacramento gadfly.
"The fact is that the job of a professor is to teach and conduct research," Walters stated in a recent column. "To add service to the criteria would simply encourage and reward political activism that would most likely lean toward the left."
Walters quotes the bill's language as evidence, such as that professors should help "undeserved populations" and work "to promote cultural diversity."
Assemblywoman Connie Conway, R-Visalia, argues in an open letter to Brown that the bill, if approved, would run afoul of the California Civil Rights Initiative, which "prohibits discrimination or preferences based on race, sex, color, ethnicity, or national origin in the operation of public employment, public education, or public contracting."
Not all of California's professors are keen on the idea, either. UC Berkeley's student newspaper, The Daily Californian, reports some academics – especially those in the field of science – complain the requirement would be too onerous.
Some professors also told the newspaper that faculty service is already taken into account with regard to tenure decisions, and while the bill is well-meaning, it's also misguided.
UC spokeswoman Brooke Converse took issue with the fact that Sacramento lawmakers would presume to tell the system how and why to offer tenure.
"We believe the university, not the legislature, should establish the criteria for faculty tenure," Converse was quoted in The Daily Californian as saying.
A spokesman for Brown did not return phone calls seeking comment on whether the governor will sign the bill into law.
Fix contributor N S is a student at Chapman University.
IMAGE: Peyri Herrera/Flickr
Click here to Like The College Fix on Facebook.