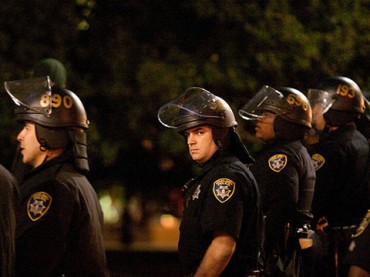 We should make it easier for police officers to earn college degrees
Student activists at several universities in Chicago want to end their universities' degree programs that offer tuition breaks to law enforcement.
But if successful, their plans would make policing worse overall.
Many police officers join the force with only a high school diploma and then earn a degree on the job for promotions. Campus education programs generally help police officers gain degrees in criminal justice, law or business administration.
A 2017 study found only 30 percent of police officers have a four-year college degree, and about 50 percent have a two-year degree. The extra education and training provided by these campus degree programs is what's needed to help improve policing in the United States.
But students at Loyola University-Chicago want to see the school end its program that allows Fraternal Order of Police members to take discounted courses. DePaul students want to see the university end its program as well, with some students refusing to even help Chicago Police Department students write papers.
It's part of a broader effort to sever all ties between universities and the police, including ending university police departments and urging mathematicians not to work with law enforcement.
MORE: Harvard prof's research: 'Defunding the police could cost thousands of black lives'
But police need more education, not less. That idea should not be controversial.
A June 2020 policy statement by the International Association of Chiefs of Police suggested "increased educational standards" as part of its framework for reforming the police.
Ray Kelly, the former police commissioner of New York City, recently said that every police
officer should have a college degree, reports The Wall Street Journal.
A 2010 paper found "higher education carries no influence over the probability of an arrest or search occurring in a police— suspect encounter. College education does, however, significantly reduce the likelihood of force occurring."
And a 2016 paper found "increased employment screening tests, higher education requirements, and augmented training hours lowers departmental use of force complaints."
Furthermore, education is often a prerequisite for promotion in police departments, according to policeone.com. Increasing the pool of applicants with college degrees would create a more competitive system for promotion, giving police departments more options.
A recent article in The Conversation, written by two criminal justice professors, explained several benefits of increased education, including a decreased use of force, problem-oriented policing, and better relations with the community.
They specifically endorse programs that give tuition discounts to police officers and conclude: "Educated law enforcement professionals will be better equipped to lead much-needed reform efforts."
Educating police officers could be a good step toward improving community relations, reducing police brutality, and restoring respect to the field of law enforcement.
Student activists should think twice before trying to kick police officers out of campus — it would do more harm than good.
MORE: Students demand Penn sever ties with cops
IMAGE: Thomas Hawk/Flickr
Like The College Fix on Facebook / Follow us on Twitter