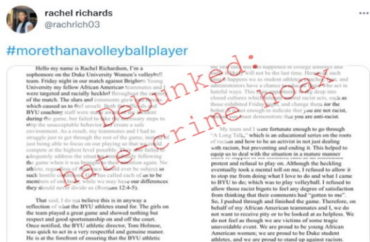 The allegation that a Brigham Young University fan continued to yell a racial slur at a Duke University volleyball player has been officially declared false by the Utah-based institution.
BYU athletics released an official statement Sept. 9 regarding its exhaustive investigation into the claim, which made national headlines and even prompted the head women's basketball coach at the University of South Carolina to cancel a November 7 game against Brigham Young.
BYU stated there is zero evidence to corroborate the allegation:
BYU has completed its investigation into the allegation that racial heckling and slurs took place at the Duke vs. BYU women's volleyball match on August 26. We reviewed all available video and audio recordings, including security footage and raw footage from all camera angles taken by BYUtv of the match, with broadcasting audio removed (to ensure that the noise from the stands could be heard more clearly). We also reached out to more than 50 individuals who attended the event: Duke athletic department personnel and student-athletes, BYU athletic department personnel and student-athletes, event security and management and fans who were in the arena that evening, including many of the fans in the on-court student section.

From our extensive review, we have not found any evidence to corroborate the allegation that fans engaged in racial heckling or uttered racial slurs at the event. … As a result of our investigation, we have lifted the ban on the fan who was identified as having uttered racial slurs during the match. We have not found any evidence that that individual engaged in such an activity. BYU sincerely apologizes to that fan for any hardship the ban has caused.
Duke University volleyball player Rachel Richardson (pictured) wrote on Twitter Aug. 28 that "my fellow African American teammates and I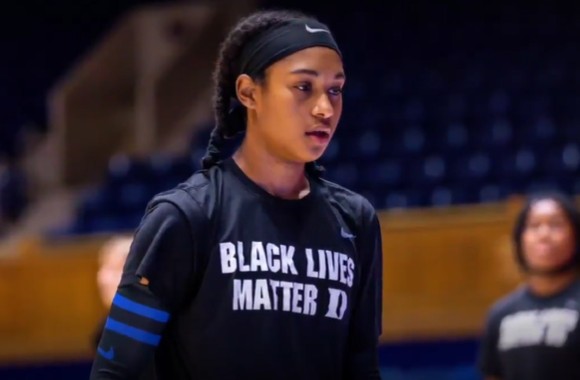 were targeted and racially heckled throughout the entirety of the match."
"The slurs and comments grew into threats which caused us to feel unsafe," Richardson wrote. "Both the officials and BYU coaching staff were made aware of the incident during the game, but failed to take the necessary steps to stop the unacceptable behavior and create a safe environment."
In a follow-up video, she claimed it was only during the second set that she first heard a racial slur and then heard it again the second time she served during the second set. She does not mention the slur being used at all during the three times she served during the third set. The "racial slurs and heckling…grew more extreme," Richardson said at the time.
While the claim has been exposed as a hate-crime hoax, the damage has already been done, National Review reports:
Richardson's allegations against BYU's fans had resulted in a reflexive outcry from many in the media who took them at face value. ESPN's Stephen A. Smith charged BYU with "dereliction of duty," shouting in an on-air rant that "I'm saying BYU — you did it! By allowing this to happen and not addressing expeditiously, not addressing it with a level of quickness and speed that you should've addressed this with."

CNN's Jim Acosta introduced a segment on the incident by declaring that "a Duke volleyball player is speaking out after she and other black teammates were called racist slurs and threatened during a match against Brigham Young University on Friday."

Elsewhere on the channel, Alisyn Camerota chided BYU athletic director Tom Holmoe for having only banned one fan, noting that "sophomore Rachel Richardson said she heard more than one person using racial slurs toward the black players."

"What does it say about the BYU community and culture that this happened?" Camerota asked Holmoe.
Even before BYU put out its statement, the allegation had been debunked by local journalists and investigators, including reporting by the conservative campus newspaper the Cougar Chronicle.
And Utah fan André Hutchens' Twitter thread Sept. 2 thoroughly debunked the claim by posting videos of the game to show it never happened.
It has been one week since the Duke/BYU women's volleyball game and nearly a week since allegations of racism from a BYU fan against Duke athlete Rachel Richardson surfaced on Twitter.

I've thought of little else since then…

Thread 🧵 incoming: pic.twitter.com/YTgCn1TLEP

— André Hutchens (@ac_hutchens) September 3, 2022
But that didn't stop the narrative. A Sept. 7 column in USA Today called the argument that the student-athlete's claims could be a hate-crime hoax a "right-wing conspiracy theory." Columnist Mike Freeman likened such debunking efforts to "QAnon."
This latest false flag claim of racism at Duke is not the only high-profile incident involving the prestigious university. In 2006, a black woman working as a stripper had falsely accused its lacrosse team of gang raping her.
MORE: Basketball coach cancels future games against BYU despite debunked racial claims
Like The College Fix on Facebook / Follow us on Twitter