All six victims of a mass slaying Friday in the college town of Isla Vista have now been identified as UC Santa Barbara students, and campus leaders have scheduled a "Day of Mourning and Reflection" for Tuesday to help the college community cope with the tragedy.
"This is a period of mourning for all of us," USCB Chancellor Henry Yang stated on the campus website. "On Tuesday we will remember and honor the victims of this horrible event, and come together as an academic community to reflect, talk with each other, and think about the future."
Students hosted a walk and candlelight vigil Saturday, what Yang called the start of the healing process after the massacre. At the memorial, students converged together in the campus quad and sung "Amazing Grace" while holding flickering candles before silently walking the streets of Isla Vista together.
The observance came in the wake of  22-year-old Santa Barbara City College student Elliot Rodger's murder rampage, in which he stabbed three people in his apartment, killed three other students with a gun, and wounded even more with his car before ending his own life in a police shootout.
Yang called the toll "heavy."
Among the students gunned down is 22-year-old senior Katherine Cooper, an art history major, who police say was killed outside of a sorority house.
"She was a self-proclaimed princess and I love her for that," one of her friends told The Associated Press. "And I know she has a crown on her head today."
Nineteen-year-old sophomore Veronika Weiss, another gunshot victim, was also slain near a sorority house. Weiss' father told the Los Angeles Times that his daughter was an athletic and outgoing tomboy.
"She was happy all the time," he said.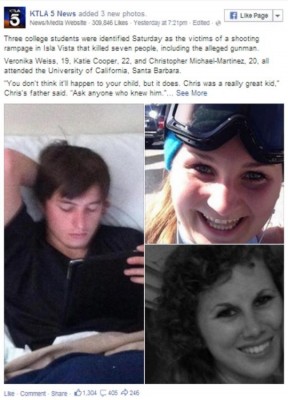 Christopher Martinez, 20, a junior and English major who also died in Friday night's rampage, was shot and killed in the I.V. Deli Mart.
"Friends described him as the kind of person who would welcome strangers into his home," ABC News reports. "He planned to study abroad and then go to law school."
At a press conference Sunday, Martinez's father, Richard Martinez, partly blamed the National Rifle Association for his loss in an emotional speech, the UCSB Daily Nexus reports.
"You don't think it'll happen to your child until it does," Martinez said. "Chris was a really good kid. Ask anyone who knew him. His death has left our family lost and broken."
"Why did Chris die? Chris died because of craven, irresponsible politicians and the NRA," Martinez added. "They talk about gun rights. What about Chris' right to live? When will this insanity stop?"
The other three students who died from stab wounds are 20-year-old Cheng Yuan Hong, 19-year-old George Chen, and 20-year-old Weihan "James" Wang, according to a news release from the Santa Barbara County Sheriff's Department.
Three young men fatally stabbed during Isla Vista rampage ID'd as Bay Area residents: http://t.co/lgB7NTdFYy pic.twitter.com/UhT6gX0OcJ

— ABC7 News (@abc7newsBayArea) May 26, 2014

"They were found deceased with multiple stab wounds in Rodger's apartment located in the 6500 block of Seville Road in Isla Vista," the officers stated. "Hong and Chen are listed on the lease for the apartment as tenants, along with Rodger. Sheriff's investigators are in the process of determining whether Wang was also a roommate or was visiting the residence."
"Sheriff's investigators believe Rodger killed these victims prior to going on a shooting rampage in Isla Vista around 9:27 p.m. on May 23," the statement added. "In all, six innocent people were killed and 13 others were wounded.  Rodger died in the incident, possibly from a self-inflicted gunshot wound."
Chen and Wang were juniors in the College of Engineering, according to Chancellor Yang.
"Our sense of loss is immeasurable," Yang stated. "We are offering our full support to their families, and our thoughts and prayers are with them. In the coming days we will also explore with the families how we may best honor their memories."
"We have established a fund, The UC Santa Barbara Community Fund, to honor our students who were victims of this tragedy and to memorialize their lasting impact and contributions to the UC Santa Barbara community."
Prior to the attack, Rodger posted a video online that stated he would "take great pleasure in slaughtering all of you. You will finally see that I am in truth the superior one, the true alpha male."
"I'm 22 years old and still a virgin, never even kissed a girl. And through college, 2 1/2 years, more than that actually, I'm still a virgin. It has been very torturous," Rodger says in his video. "You forced me to suffer all my life, now I will make you all suffer. I waited a long time for this. I'll give you exactly what you deserve, all of you. All you girls who rejected me, looked down upon me, you know, treated me like scum while you gave yourselves to other men."
According to police, after killing the three victims in his residence, Rodger went to the Alpha Phi sorority house, and "several women in the sorority reported hearing loud and aggressive knocking on the front door for several minutes," police say.
"Fortunately, no one opened the door and the suspect left," they added. "Shortly afterwards, witnesses reported seeing three women shot by the suspect across the street. Two of the women, Cooper and Weiss, died from their injuries. A third victim received several gunshot wounds and was transported to the hospital."
Meanwhile, the college community continues to grapple with the aftermath of the tragedy.
"The mound of bouquets outside Alpha Phi sorority, where Weiss and another member of the Tri Delta sorority were killed, grew Sunday as mourners continued to pay their respects," the Los Angeles Times reports. "Early in the evening, about 40 members of the Isla Vista Church gathered in small groups to clutch hands and pray. At I.V. Deli Mart, where Christopher Michaels-Martinez was shot down, people stuffed flowers into the bullet holes that spidered the front window."
In an op-ed in the Daily Nexus, co-opinion editor Emile Nelson encouraged peers to stay strong.
"It's sad that it takes a tragedy like this to remind us how important the people and relationships we have are, but we need to use this as a time to show each other that we're not just contacts in a phone or friends on Facebook; we're not just kids in class or people you see at the gym. We're family," Nelson wrote. "And now more than ever, we need to remind ourselves just how much we really do care about one another.
Jennifer Kabbany is associate editor of The College Fix.
Like The College Fix on Facebook / Follow us on Twitter
IMAGE/MAIN: YouTube Screenshot – Mr.LiesAngeles