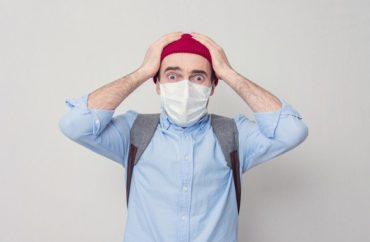 UPDATED
Failure to comply 'will be subject to University Code of Conduct'
The University of Texas-Austin promised to punish students for not wearing masks inside buildings. American University has gone a step further, requiring masks outside as well – at least in one version of the rules it published.
The private university in Washington, D.C., published a 16-page slide show Monday that says face masks "will be required for all community members at all times on campus," with the exception of people "alone in residence hall rooms or private offices." A sidebar explicitly says "outdoor spaces" are covered by "Health and Safety protocols" (below).
In other words, if another person is outside on the 84-acre campus at the same time as you, you must wear a mask.
The slide show is silent about enforcement mechanisms, but a frequently asked questions page makes clear failure to wear a mask is a punishable offense:
[W]e have developed several mechanisms and educational trainings to remind people of the health and safety requirements and their role in ensuring our community stays safe. Anyone who disregards our guidelines and training efforts, thus putting others at risk, will be subject to University Code of Conduct provisions outlined for faculty, staff, and students.
There is no document titled "University Code of Conduct" that The College Fix could find on AU's website, and policies specific to students, faculty and staff do not mention masks, coronavirus or COVID-19, including the Student Code of Conduct (not yet updated for 2020-2021), Faculty Manual (updated in May), Good Neighbor Guidelines (updated in 2015) and Staff Personnel Policies (updated in 2018).
The student code does specify that "prohibited conduct" includes that "which threatens or endangers the health or safety of any person," however. No comparable provision is listed in the faculty manual.
MORE: LA County schools require students to wear masks 'at all times'
FAQ adds a third exception for 'physical distance' outside
Asked to specify which policies require mask usage and put the community on notice what sanctions they could face for violation, Assistant Vice President for Communications & Media Lisa Stark claimed The College Fix made "several inaccuracies" in the original post.
The only inaccuracy she cited, however, arose from the university's own apparent error. The slide show, which remains live as of Thursday night, provides two exceptions for the masks-at-all-times rules: people "alone in residence hall rooms or private offices."
In two FAQ sections The Fix overlooked when searching for enforcement mechanisms, however, AU lists a third exception: "outdoors in settings where they are able to maintain physical distance." The Fix has asked Stark why the university put out conflicting directives, one of which requires mask use outside with no limitations and another that provides a "physical distance" exception.
Stark did not explain where students, faculty and staff can find possible penalties for violating mask requirements, given that the "University Code of Conduct" does not appear to exist by that name on its website.
She again accused The Fix of an "inaccuracy" by way of "implication that we are looking to widely employ the student conduct code as an enforcement mechanism." (Stark only alleged two inaccuracies, not the "several" she claimed.)
The Fix made no implication about how "widely" the university would enforce its rules, but rather asked media relations to explain its own representation about "University Code of Conduct provisions" that will be applied to anyone who "disregards our guidelines and training effort."
Stark wrote:
Let me assure you that our intent, first and foremost, is to create a community of care at AU. As members of  community and at a time of major public health crisis, it is the responsibility of each and every one to take matters of health and safety seriously. Codes of conduct are standard at all institutions. It is not our approach to take a punitive approach but rather an educational one with training on awareness for all members of the community and on shared responsibility. All universities have the ability to exercise enforcement of the code in cases of repeated violations and if actions endanger the health and safety of others.
No tuition break because of 'asynchronous content'
According to a rundown of the fall semester plans by DCist, AU is limiting campus housing to single-occupancy rooms, of which it has about 2,300: "Preference will be given to freshmen and, space permitting, some sophomores."
Sophomores who "previously were assigned on-campus housing and now need to relocate" will be housed in "select off-campus locations" that the university has secured:
One residence hall "will remain unoccupied for self-isolation of on-campus residential students who have a confirmed diagnosis of COVID-19," says the university. Bathroom capacity will range from one person to 16 people each at a time, depending on bathroom size and overall dorm capacity.
Six class formats will be used, one of which is "online only" with no set meeting times. The rest are "live online sessions," all but one of which feature some combination of fixed and "periodic" in-person class meetings, lab sessions and studio sessions.
Students will not get a tuition break despite the objectively worse learning experience they are receiving and chronic infringements on their personal liberties. They will pay $26,955 for 18 credit hours. A university statement given to DCist says the addition of "asynchronous content" – on-demand viewing of lectures and discussions – justifies the full price.
Surprisingly, The Eagle campus newspaper does not mention the mask requirement and enforcement threat in an otherwise exhaustive report.
Read the slide show and DCist report.
UPDATE: The Fix has changed the headline and body of the post because of an error the university made that The Fix did not notice when writing the original post. The slide show the university published provided two exceptions for mask-wearing at all times. Two FAQ sections on its website, however, mention a third: "outdoors in settings where they are able to maintain physical distance." The Fix did not notice these at the time. The university falsely blamed The Fix for "several inaccuracies" and did not take responsibility for releasing two different versions of its mask rules. A spokesperson's comments in response to questions have been added.
MORE: Wear a mask inside buildings or you'll be punished, UT-Austin warns
MORE: Contrarian Liberty U. ends semester with zero COVID cases
IMAGE: Anastasiya 99/Shutterstock
Like The College Fix on Facebook / Follow us on Twitter