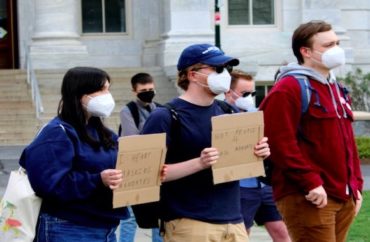 Students at American University engaged in a protest this past week against the school's new mask-optional policy which began March 21.
Speakers at the event cited "discomfort," "vulnerability," "frustration" and being "heartbroken" in their efforts to get American to reinstate mandatory COVID-19 masking, The Eagle reports.
The die-in demonstration followed.
Disabled Student Union President Katherine Greenstein said the "most vulnerable" have to be "prioritized" by the university at the present time, and this means requiring face masks and options for hybrid instruction.
The DSU's Laura Polomis agreed, saying she "is tired of disabled lives being treated 'as a commodity.'" In her speech to those gathered, Polomis said "I cannot learn, I cannot grow if I'm in my dorm room scared for my life."
Max Burchell of the DSU noted he was dismayed at celebrations regarding the end of the mask requirement, saying he feels such "lack[s] basic compassion and basic care for others."
MORE: Eagle columnist calls white peers returning to campus an 'invasive species'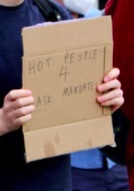 Although the demonstration's attendance appeared to be rather light (above right), other groups represented included AU PRIDE, the AU Public Health Association and the organization called "Hot People 4 Mask Mandates" (left).
Henry Jeanneret, a junior in the School of Communication and College of Arts and Sciences and the Academic Support and Access Center liaison for DSU, attended the rally because he said it is crucial to listen to the concerns of other community members. Jeanneret said he has sensory issues that make it uncomfortable for him to wear a mask, but he does to protect his peers.

"My discomfort [of wearing a mask] for an hour and 15 minutes is outweighed – and should be outweighed – by the health and safety of everyone else around me," Jeanneret told The Eagle. "Because I can take a break from wearing a mask, but my friends can't take a break from being immunocompromised."

Greenstein and other DSU members have been drafting emails to send to deans and professors, requesting hybrid learning and mask mandates in classes. They also said one solution in obtaining necessary accommodations from the University is self-advocacy, a significant aspect of the disabled movement.
In a Wednesday editorial, The Eagle's editors said the university must maintain its mantra of "community of care" and backed the DSU by saying AU's mask decision "places the burden on students to go out of their comfort zone to ask others to wear a mask, which will likely result in unfriendly responses."
MORE: American U. releases two different versions of mask rules, tries to blame The Fix for its error
IMAGES: The Eagle screencaps
Like The College Fix on Facebook / Follow us on Twitter