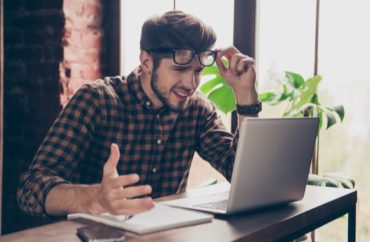 Because that would be racist
Earlier this year, American University invited an outside professor to teach its faculty how to pursue "antiracist ends" through writing assessments.
Asao Inoue of the University of Washington-Tacoma is known for advocating that students should be graded based on the "labor" they put into their work, not the "quality" of the finished product.
The training has now moved in-house, according to a faculty workshop taking place Thursday morning.
Neisha-Anne Green of the Academic Support and Access Center and Marnie Twigg of the Writing Studies Program will lead the session, titled "How to Incorporate Anti-Racist Pedagogy in Your Classroom."
The description says the session builds on strategies that Inoue taught in February. It will show participants how to revise course materials so they don't accidentally promote or reinforce racist practices:
Participants will work together with facilitators and each other to reimagine course materials with an eye for these practices. Participants will submit a writing assignment prompt, rubric, or other assessment-related materials of their choosing prior to the session. Facilitators will provide feedback on these materials, opportunities to workshop them in small groups with writing experts, and models for troubleshooting when things don't go the way you plan.
MORE: Inoue's seminar teaches faculty to ignore quality of student's work
While the description doesn't specify the components of "anti-racist writing assessment practices," the agenda for Inoue's daylong seminar from February provides clues.
It says that "single standards" for language "kill our students," and that "grading ain't just grading." The director of the UW-Tacoma Writing Center said he would explain how "White language supremacy is perpetuated in college classrooms despite the better intentions of faculty, particularly through the practices of grading writing."
He pledged to lay out "labor-based grading contracts" and demonstrate to participants how judgments in the classroom "use a set of White racial habits of language, no matter who the reader is."
The anti-racist pedagogy workshop isn't the only one that seeks to promote inclusion.
MORE: To get over hippie-stoner image, public university lowers standards
The schedule, which covers workshops on Wednesday, Thursday and Aug. 21, also features workshops on "Creating an Inclusive Classroom," navigating the classroom for nonwhite faculty and students, and faculty leadership on diversity and inclusion.
A session on the makeup of AU undergraduates is led by the university's top diversity official and its vice president of campus life, who also advises the university on "inclusion, diversity and equity" ("inclusive excellence" is part of her formal title).
Another session on "critical information literacy" will introduce faculty to the "political, social, and economic dimensions of information" and help them take action on "systems of oppression within scholarly communication":
Because CIL works to unveil the power structures behind the creation and dissemination of information, the presenters will lead a discussion, asking participants to consider existing forms of oppression our students engage with, how this is reinforced in the classroom or in research practices, and ways to design the classroom experience to be a more democratic, collaborative, and transformative space.
Read about the sessions via the schedule.
MORE: AU consent training turns female grad into 'men's rights activist'
IMAGE: Roman Samborskyi/Shutterstock
Like The College Fix on Facebook / Follow us on Twitter