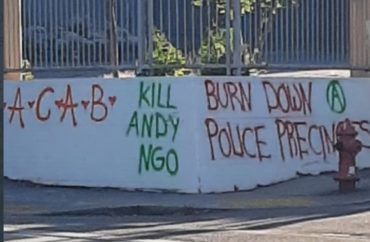 The journalist recently wrote a book about unmasking Antifa's radicalism
Andy Ngo has risen to prominence by covering the violence of leftist group Antifa. He said that the violence is part of Antifa's ideology — it's not a fluke occurrence.
"This Antifa extremist ideology movement gives them that community, gives them meaning and purpose," Ngo says of the group's recruits. "It does a lot of things like what religion traditionally would do. But it also leads them down a path towards violence, and some of them get seriously injured," he warned.
Ngo discussed the history of Antifa in his speech this spring at Hillsdale College's National Leadership Seminar in Tennessee.
Ngo recently wrote a book about the origins and tactics of Antifa called "Unmasked: Inside Antifa's Radical Plan to Destroy Democracy." He is also a former reporter for The College Fix.
Having been on the receiving end of Antifa violence in the past, Ngo sought to highlight the violence that occurs to Antifa's opponents and even to some of its members. Several weeks after this speech, he also was the victim of violence from Antifa.
"I don't do it to be sensational or shocking," Ngo told the crowd, "but there's no way to report honestly about Antifa without showing what they actually do, which does result in maimed bodies and killed people."
Antifa member Michael Reinoehl allegedly shot and killed Aaron Danielson, a supporter of President Donald Trump, in 2020. Reinoehl died later after federal law enforcement raided his home.
The journalist uses these and other incidents to convey that Antifa's violence is not just the result of actions by a few rogue members, but that it seems to be common, as some of its own activists have disclosed.
The violence stems from its connection to a 1930s German Communist Party movement called the Antifaschistische Aktion, which relied on violence for its political goals.
"Antifa won't admit it today, but their forebears actually paved the way for the rise of Hitler by creating a climate of extreme political polarization," Ngo said of the movement's predecessors.
Among the militant methods utilized by some Antifa groups are the lighting of smoke bombs, the use of projectiles, and setting fire to property.
The seasoned Antifa reporter doesn't believe that the modern antifascist movement bears any great resemblance to the American revolutionaries. Instead he sees them as comparable to Islam's jihadists.
They are similar, Ngo said, in that they are both spurred on by ideologies and do not always have a centralized administration.
He said that politicians such as Portland Mayor Ted Wheeler should have woken up to the threat of Antifa. However, the journalist said, it's the people stuck in Portland who cannot afford to move, like Wheeler and Ngo could.
MORE: Liberal law professor warns that Antifa is on campus, needs to be expelled
IMAGE: Andy Ngo/Twitter
Like The College Fix on Facebook / Follow us on Twitter