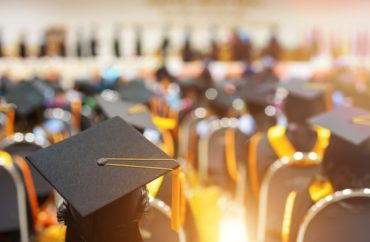 Another high school has done away with the valedictorian tradition.
Citing a need to consider students' mental health, officials at Mason High School in Ohio recently announced they've scrapped the valedictorian and salutatorian tradition starting with the next school year.
"The recognition system will reward our students for genuine academic success based on their academic accomplishments," said Mason High School Principal Bobby Dodd in a statement. "This will help reduce the overall competitive culture at MHS to allow students to focus on exploring learning opportunities that are of interest to them."
The decision came after "a year-long study and focus groups with students, staff, and families," and it's part of an effort to "improve students' mental wellness," according to the statement.
Cincinnati.com reports campus officials were concerned with "an unhealthy competitiveness among students," saying students were too consumed with earning the top spot and giving up other activities in that pursuit.
Associate Principal Shanna Bumiller said the change is about encouraging students to be well-rounded.
"It's about what it means to be happy and what it means to be successful and it's not just about the grade but it's about the whole child," she told WLWT channel 5.
The school still plans to honor high academic achievers.
"Students with a 4.0 GPA and higher will earn summa cum laude honors, 3.75 to 3.99 will earn magna cum laude, and 3.51 to 3.74 will earn cum laude," Cincinnati.com reports.
The Ohio high school is not the only campus to eliminate its valedictorian.
"At least half of U.S. states have schools that have stopped naming valedictorians, or now name multiple, to head off what school officials say has become unhealthy competition among students," The Wall Street Journal reported in 2017.
It added the trend has faced backlash, "with students at the top of their class as well as their parents saying that high performance is being cast aside or diluted in the name of fairness."
MORE: Attach fewer benefits to 'meaningless perfection'
IMAGE: Speaking Pix / Shutterstock
Like The College Fix on Facebook / Follow us on Twitter