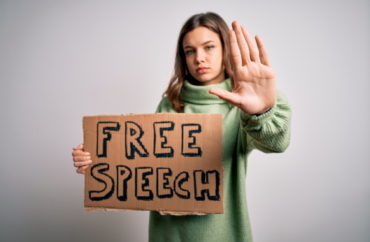 The reaction of many progressives to the news Elon Musk had bought the social media platform Twitter is a shining beacon on how critical theory has altered the notion of "free speech" in America.
Unsurprisingly, many of these progressives appear to be quite young and hence forget instances like the ACLU supporting the right of neo-Nazis to march through a Chicago neighborhood where many Holocaust survivors lived.
Yes, that Nazis wanted to torment victims of the 20th century's greatest crime was beyond disgusting; however, that is precisely what the First Amendment is designed to protect: speech and expression that people don't like.
But even the so-called "Guardians of Freedom" have fallen victim to contemporary critical thought. The ACLU now believes speech which can hurt "marginalized" groups can "undermine their civil rights." That's quite a one-eighty.
This view is shared by folks like Hofstra University's Kara Alaimo and NYU's Elizabeth Spiers who, in reaction to Musk's purchase, spouted this exact sentiment: Twitter becoming more open will permit "harmful forms" of free speech which will result in the "silencing [of] many people" — aka women and minorities.
Former Secretary of Labor Robert Reich, now a professor at UC Berkeley, said that Musk's wish for a more open Twitter is "dangerous rubbish" and added it's "the dream of every dictator, strongman, demagogue and modern-day robber baron on Earth."
Even more hilarious was a few days later:
Remember, too, that critical theory is constantly malleable. It can go in any direction it chooses. For instance, an academic advisor at Leeds Beckett University claimed critical race theory "protected" her right to make racist comments against black conservatives. New York U.S. Representative Hakeem Jeffries backed that sentiment just a few days ago, but by invoking the classical liberal defense for free speech:
Rep. Jeffries: "What evidence do you have to support" that Dems hate Clarence Thomas because he's a black conservative?@MarkPaoletta: The Chairman of this committee called him an Uncle Tom.

Rep. Jeffries: He has freedom of speech.

"Can I give you another example."

"No." pic.twitter.com/Wy1l6lSpKA

— Center for Renewing America (@amrenewctr) April 28, 2022
Perhaps scariest of all is the Biden administration's establishment of a "Disinformation Governance Board" in the Department of Homeland Security. This, too, occurred shortly after Musk's Twitter purchase (which I'm sure had absolutely nothing to do with it) and will be led by Nina Jankowicz.
Here's my official portrait to grab your attention. Now that I've got it: a HUGE focus of our work, and indeed, one of the key reasons the Board was established, is to maintain the Dept's committment to protecting free speech, privacy, civil rights, & civil liberties. 🇺🇸 pic.twitter.com/C4xiEGfhDt

— Nina Jankowicz 🇺🇦🇺🇸 (@wiczipedia) April 27, 2022
Unbelievably, this person who will help determine what news is "legitimate" was a big fan of the discredited Christopher Steele dossier and of suppressing news about Hunter Biden's laptop. In addition, she asserted that making fun of the now-vice president and other "public women" was a threat to "national security and democracy."
You read that correctly — online mockery of public figures should not be permitted, in her view.
Jankowicz outlined tech companies and government should work together using "creativity and technological prowess to make a pariah of online misogyny."

Social media companies, she argued should "make the shift toward believing women" allowing them to identify and censor content. Jankowicz also called for tech companies to stop "a tacit pile-on instruction" from influential people with a lot of online followers.

Jankowicz said online mockery of women was a threat to democracy, warning that "gender disinformation" could prevent women from running for office.
Joking about politicians and public figures arguably is the very essence of the First Amendment. And that is all that Elon Musk wants for Twitter:
By "free speech", I simply mean that which matches the law.

I am against censorship that goes far beyond the law.

If people want less free speech, they will ask government to pass laws to that effect.

Therefore, going beyond the law is contrary to the will of the people.

— Elon Musk (@elonmusk) April 26, 2022
You can bet your bottom dollar that Jankowicz, the White House, the mainstream media and hardcore progressives across the country will do everything in their power to stop him.
IMAGE: Kraken Images/Shutterstock.com; Twitter screencap
Like The College Fix on Facebook / Follow us on Twitter