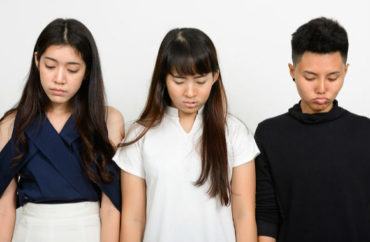 Stop calling it an 'adversity score,' College Board pleads
The maker of the Scholastic Aptitude Test is silent on criticisms that its recent changes – intended to level the socioeconomic playing field in admissions – will hurt Asian-American children in particular.
A spokesperson for the College Board emphasized to The College Fix that its new "environmental context dashboard" is not an "adversity score," a term he attributed to The Wall Street Journal. He issued a lengthy explanation of what the ECD does and does not do.
But the spokesperson provided a generic response to the widespread criticism the change has provoked, when The Fix asked specifically for its response to the Asian American Coalition for Education. He has not responded to a followup request.
Yukong Zhao, president of the coalition, confirmed to The Fix in an email Wednesday that the College Board had yet to respond to its May 31 letter outlining concerns.
The implementation of adversity scores, the popular slang term for the ECD, "will result in grave harms to Asian-American children who are already punished by racial preferences in college admissions," the coalition wrote in a press release last week.
MORE: Attorney warns 'adversity score' is another form of 'redlining'
The same group has also fought Harvard University's use of "holistic admissions," claiming the Ivy League school sets an informal rough cap on Asian-American admissions. A federal judge is expected to rule soon on whether Harvard's system discriminates against those applicants.
The ECD has been controversial since the College Board piloted it on about 50 schools in recent years, though early critics faulted its exclusion of race from consideration. Harvard is one of them, according to The Harvard Crimson. (Inside Higher Ed labeled it an "adversity index" in 2017, with no apparent protest from the College Board.)
If fully implemented, it would reinterpret academic achievement based on the alleged challenges that applicants are presumed to have faced. The College Board plans to expand its availability to 150 schools this year and all colleges next year.
Though more recent criticisms of the ECD include its potential for fraud and the opacity of its criteria, critics generally object to its likelihood to penalize students who perform well academically – a group that is disproportionately Asian American.
'A double penalty on Asian-American children from working class families'
The Asian American Coalition for Education doesn't have a previous relationship with the College Board or other provider of student performance tests, Wenyuan Wu, director of administration, told The Fix in an email.
But it's made its views on college admissions known for years, going back to a 2015 regulatory complaint against Harvard. The coalition agrees with most Americans, as judged by polling, that merit should be the sole determinant of admission, with no role for race, ethnicity, gender, legacy or athletic ability, Wu said.
It has long supported socioeconomic affirmative action that leaves open "a reasonable percentage of admissions slots for certain eligible students from poorer neighborhoods," she continued.
The coalition actually wants an even more "holistic" evaluation process than Harvard and other elite schools use, Wu said. Certain skills should get greater weight depending on a student's choice of study:
For instance, we believe superb social/interpersonal skills constitute a crucial characteristic for students pursuing a business degree. In STEM majors, however, scientific rigor and logical thinking are more important qualities than social skills. In liberal arts, creativity should be valued.
The so-called adversity score "could be a positive step toward replacing racial preferences in college admissions IF it is structured scientifically and according to fair yardsticks," Wu wrote. But if "utilized on top of racial preferences," the score will "impose a double penalty on Asian-American children from working class families," she said.
Because of their "relatively small size as a percentage of the general population," Asian Americans are "bullied, harmed and sacrificed by many short-sighted politicians," Wu said.
MORE: Hundreds rally against Harvard to demand end to anti-Asian discrimination
These politicians "are unwilling to face and solve the root cause behind a lack of racial diversity in higher education, which is failing K-12 education in too many undeserved communities," it wrote. "They treat Asian-Americans as scapegoats to advance their political agenda, which is mostly tied to winning votes without solving real issues."
Wu warned the College Board and others to take Asian-American concerns seriously. "We are neither the silent minority nor the model minority," she wrote:
We think for ourselves, want what's best for our children and this nation as a whole— a fair and competitive education system. We subscribe to what is logically, morally and legally right. WE ARE NOBODY'S PAWN.
The coalition's May 31 letter accuses the College Board of failure to consult with the Asian-American community and asks the organization to turn over its "methodology" for the ECD.
The new system effectively punishes families who "endure tremendous hardships and make great sacrifices so that they can move to good school districts and send their kids to good schools," it continues. "Without any privileged background, these families practice the principles of resilience, financial prudence, family responsibilities, and hard-work [sic]."
Any use of the ECD, even if "established scientifically," should also be limited to "truly disadvantaged families" and not the "general population for utopian social engineering control." Echoing fraud concerns, the letter warns that families who "intentionally change addresses" can game the system.
Gives boost to 'poor rural' and military families
The College Board has been greatly irritated by the media's repeated description of the ECD as an "adversity score," the spokesperson told The Fix, saying the term doesn't reflect the ECD's mechanism.
It does not "alter" an SAT score or consider "personal characteristics" of students beyond their SAT score. All it does is show "how a student's' SAT score compares to those of other students in their school" and give admissions officers "better context about an applicant's neighborhood and high school."
"Through its history, the College Board has been focused on finding unseen talent," President David Coleman said in a statement provided by the spokesperson.
MORE: 'Adversity score' recalls Indian student who passed as black for med school
"The Environmental Context Dashboard shines a light on students who have demonstrated remarkable resourcefulness to overcome challenges and achieve more with less," Coleman said. "It enables colleges to witness the strength of students in a huge swath of America who would otherwise be overlooked."
The statement provides a range of living situations the ECD is designed to recognize: "poor rural families," kids in "inner cities," and children of military families "who face the daily difficulties of low income and frequent deployments."
Coleman said the board's pilot programs had shown that use of the ECD improved the admissions rate for students who "demonstrate strength and resourcefulness in overcoming challenges."
The spokesperson said the pilot schools included Yale, Florida State and the University of Michigan. Not only were students from "higher levels of disadvantage" more likely to get in, but the effect was particularly notable for students who attended lesser-known high schools and those "whose academic performance exceeded that of their peers by the widest margins."
MORE: Fountains of money? Asian students struggle to pay for college
IMAGE: Ranta Images/Shutterstock
Like The College Fix on Facebook / Follow us on Twitter