BOSTON — Hundreds of demonstrators converged in Boston's Copley Square on Sunday to show support for Students for Fair Admissions just as the organization begins its battle in federal court against the Ivy League institution.
Students for Fair Admissions has sued Harvard, alleging discrimination in admissions practices, specifically against Asian Americans. The rally, hosted by the Asian American Coalition for Education, along with other organizations, was titled "Rally for the American Dream — Equal Education Rights for All."
As the demonstration unfolded, dozens of American flags waved in the air. Appeals to famous Martin Luther King Jr. expressions peppered speeches. A giant banner thanking President Trump for advocating for meritocracy was unfurled nearby, although no speakers mentioned the president directly in speeches.
"Harvard is an American gem," said Edward Blum, founder of Students for Fair Admissions. "We are not here to bash Harvard. We are here specifically because their admissions practices are discriminatory. Your race shouldn't help you or hurt you."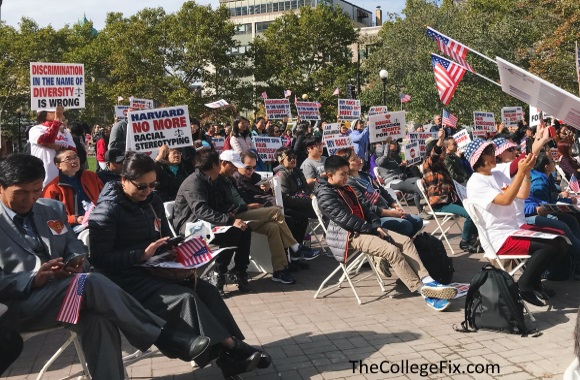 "This is not a controversial goal," he added. "Over 70 percent of Americans agree that a student's race should not be a factor in the admissions process."
Another speaker, Vijay Chokal-Ingam, author of "Almost Black: The True Story of How I Got Into Medical School By Pretending to Be Black" and brother to actress Mindy Kaling, told his story of how he shaved his head and made other modifications to his appearance to "look black" rather than Indian-American before medical school interviews to have a better chance to gain admittance. It worked, gaining him acceptance to some of the top-rated medical schools in the country at the time, despite having a below average GPA and MCAT score.
At the rally, Indian Americans were cited among the Asian American communities discriminated against by Harvard and other colleges' admissions practices. Others represented included representatives from Chinese, Korean and other Asian-American communities.
"Schools are taking your taxpayer money to discriminate against you [when the] only crime was the color of your skin and the shape of your eyes," Chokal-Ingam said.
He also called on William Fitzsimmons, dean of admissions at Harvard, to resign.
MORE: Bombshell documents detail discrimination tactics by Harvard 
MORE: Harvard requests its past history of anti-Semitism be ignored
The event's announcer, also one of the opening speakers, got the crowd cheering early on, citing a common explanation for policies against Asian Americans in the name of them being "so alike."
"These so-called elite colleges have failed miserably. Some their most distinguished officials cluelessly and shamelessly utter things like, 'Asian Americans are so alike. So many of them like to play piano and are good at studying, are good at math. We can't tell them apart.' You cannot tell us apart because of your own bigotry," she said. "It's not our fault. Improve yourselves, so-called elite colleges, instead of punishing us."
"Harvard, stop lying to yourself. Stop lying to America. Stop dragging the name of African American and Hispanic students through the mud, destroying their confidence, undermining their potential to cover your own condescending, self-serving, racist efforts."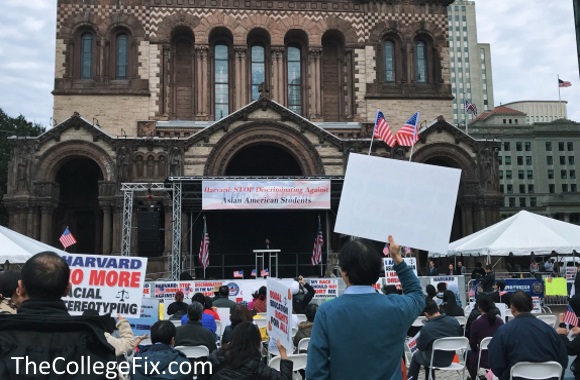 Multiple college students spoke at the rally as well, including students from Harvard, Vanderbilt, Davidson and Southern Connecticut State universities. They called for intellectual diversity and decried the notion of being judged by race alone. "The American people are tired of this. We want to get past race," one student said, prompting cheers.
And Southern Connecticut State student Tyrell Brown, the youngest black Republican to be elected to public office in Connecticut, said that affirmative action is nothing more than a "politically correct version of Jim Crow in education."
Several speakers also addressed an issue within the Asian American community — apathy to political activism. One presenter vented that her parents told her "to avoid saying things that will upset the authority, but what has model minority done for us? Our children's personalities have been assassinated."
Dr. Samuel Wong, a Harvard graduate and an eye surgeon, said the issue should not be a partisan one.
"It has been hijacked by rightists and leftists, Republicans and Democrats, Asians and non-Asians, affirmative action and anti-AA, diversity vs. homogeneous etc.," he told The College Fix via email. "But this fight is about fairness, justice, openness, opportunity for all."
Protest organizers stated that are not against diversity. A statement on their fliers explained they "support racial diversity on college campuses. However it should be achieved primarily through improving K-12 education in minority communities, not through unlawful racial quotas, racial stereotypes, and/or high standards."
MORE: Judge to decide if Harvard discriminates against Asian-American applicants 
MORE: Economists approve statistical model that finds Harvard discriminates
Like The College Fix on Facebook / Follow us on Twitter