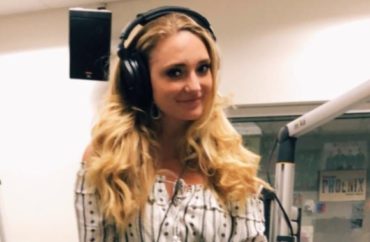 UPDATED
The Walter Cronkite Blaze Radio station manager who was removed last month after she posted a tweet that sparked student outcry has filed a lawsuit against Arizona State University, claiming the university violated her free speech rights by removing her from her role because of her tweet.
Rae'Lee Klein, a senior at the Walter Cronkite School of Journalism, on Aug. 29 had shared on her personal Twitter account a New York Post article that brought to light the sexual assault charges against Jacob Blake, a black man who was shot by police in Kenosha, Wisconsin, on Aug. 23.
The caption of her now-deleted tweet had read: "Always more to the story, folks. Please read this article to get the background of Jacob Blake's warrant. You'll be quite disgusted."
Despite immediate intense student backlash at the Walter Cronkite School of Journalism and demands that she resign, echoed by the Blaze Radio student board's unanimous vote for her removal, Klein refused to resign.
The lawsuit, which names the school, Interim Dean Kristin Gilger, and ASU as defendants, claims that the university violated Klein's First Amendment rights and Arizona state law by "refusing to allow [her] to continue as station manager of The Blaze because of the content of her tweet."
On Sept. 15, interim Dean Gilger had told Klein in an email that "staying on as station manager is not an option," and that she only had three other options: "Reassignment to another student worker position; remain on the board with the assignment I outlined; start your own station."
Student journalist 'canceled' over Jacob Blake tweet on sexual assault https://t.co/pRnStKG02V pic.twitter.com/fSkuCZym9h

— New York Post (@nypost) September 18, 2020
The lawsuit asks the court to keep Gilger, the Walter Cronkite School of Journalism, and ASU from removing Klein as station manager.
ASU has maintained that the school did not fire Klein because of the views she expressed and has recruited David Bodney, a litigation attorney who specializes in media and constitutional law.
"There was no First Amendment violation here, and Ms. Klein's claims are meritless," Bodney said in a statement provided to The College Fix by the university. "ASU and the Cronkite School have deep and abiding commitments to free speech and excellence in journalism, and this lawsuit disregards an array of facts that show just how baseless these claims really are."
Jack Wilenchik, Klein's attorney, however, told The College Fix in a telephone interview that Dean Gilger's statement to Klein was clear.
"The dean had censored Rae'Lee. 'Staying on is not an option,' that is ASU saying we're going to remove you, I don't know how else you read that," he said.
Wilenchik also explained that while Blaze Radio is a student organization, the online station is fully paid for and owned by ASU.
According to the lawsuit, Klein has been completely prevented from doing her job since ASU has failed or refused to restore her access to the online radio station after fellow Blaze Radio board members deleted her online account.
"In order to get her access back, ASU will be the ones who do that. ASU cannot just absolve itself of any involvement here and claim it's just students having a food fight. ASU owns the radio station, so ASU has the keys to unlock the station for her and let her back in," Wilenchik said.
In addition to arguing that ASU, a public institution, unconstitutionally deprived Klein of her job on the basis of her speech, the lawsuit claims the university also violated Arizona state law.
"The legislature here in Arizona passed a law that says Arizona universities shall not discriminate on the basis of free speech," Wilenchik said. "[The law's] language basically says universities are not to take positions on public policies and public debate… [and] if anything, they're supposed to just discipline students who interfere with other students' free speech rights."
The lawsuit states that Klein's personal tweet not only fell under her First Amendment right to free speech, but that her "decision to share the New York Post article was [also] consistent with journalistic ethics, which require that contrary viewpoints or information be openly shared, even though some may find them repugnant."
It also notes that all students at the Walter Cronkite School of Journalism are actually instructed to tweet as part of their graded assignments.
Wilenchik said he could not find "anything at fault with what she said whatsoever."
"It was so inoffensive, so innocuous, and frankly so consistent with journalistic standards which say you have to get the other side, you have to delve into all aspects of any given news issue," he said.
ASU, however, claims in its emailed statement that "Klein's conduct in the aftermath of the tweet – rather than the tweet itself – meant that she was no longer able to perform the job for which she was hired: leading Blaze Radio, a student volunteer radio station with hundreds of members."
Wilenchik told The College Fix that even if ASU now wants to argue that the problem is that Klein talked to conservative politicians and media outlets, it would be "no better from a First Amendment perspective for them to be saying that."
He said that such an argument would be saying that Klein can be fired for not only exercising her First Amendment right, but also for saying that her rights were violated.
"You have a right to talk to politicians—to talk to members of government bodies when you feel your constitutional rights were violated," Wilenchik said. "And you sure as heck have a right to talk to media about it. That's again, a First Amendment right."
Klein's attorney says it's a bigger fight for free speech
The university's statement notes that although ASU gave Klein several options that would allow her to continue in a new role, including one where she could start "her own radio station with full university support," "she rejected those opportunities, insisting instead on a right to lead the organization even after it was clear that she had lost the confidence of the student volunteers and board members and could no longer effectively do so."
Wilenchik told The College Fix that Klein rejected the option to start her own station because it would not change the fact of a public university illegally taking action against her on the basis of her speech and would set a horrible precedent.
"So, remember, you've got these students boycotting other students rather than force them to actually have a dialogue and treat each other civilly," he said. "Just say, 'Ah well, you just go there in the corner and be on your own,' that's not what the Arizona law says, that's not what constitutional law says.
"Again, they all say we need to have campuses where people have these debates where they listen to each other, where they have these conversations, if you hear something you disagree with you're welcome to disagree with it back, but you don't have the right to shut them up or shut them down."
In his interview with The College Fix, Wilenchik explained why he is representing Klein pro bono.
"I really respect what she is doing here," he said. "Frankly, the university applied a lot of pressure to her, even asked her to sit down for mediation and brought over somebody to kind of work her over and agree to step down. … Now, she's willing to [walk into court] to defend her rights. So, I'm really impressed with her, impressed with her case."
Noting he has talked to journalists on both sides of the political spectrum who agree that there was nothing wrong with Klein's tweet, Wilenchik said he thinks the case has the potential to set a precedent.
"I do think it has a lot of precedent-setting value here and on top of that, [there's] the fact that this is the Walter Cronkite School of Journalism … this is where they teach what journalists are supposed to do," he said. "So, this kind of cancel culture mentality, this boycotting censorship mentality that's been running wild around campuses is now coming up against: one, the media today and what journalists are supposed to do and, two, the First Amendment squarely."
"I think there's a big problem with, frankly, journalism schools, a lot of mainstream media today, that they don't necessarily see their own bias," he said. "They don't see the way they are infringing on a journalist's trying to get to the truth and trying to get to the bottom of things. And, in general, there's this problem on campus universities and, to some extent, the media of just censorship and this cancel culture attitude of … someone's head is going to explode if they hear something they disagree with."
Wilenchik said that despite those students who demanded unity and claimed they felt that the radio station had become an "unsafe space" when Klein posted her tweet, the Supreme Court says classrooms require disunity in the form of discussions, debate and different views.
"You're there to be offended by new ideas, there to be shocked by new things, you're there to hear and listen and have conversations, you're not there just to listen to a bunch of people agree with you all day long, because that's not what this country stands for," he said.
Editor's note: On Feb. 25, 2021, The College Fix received a memo from ASU stating the case had been settled:
Arizona State University and Rae'Lee Klein have agreed to settle a dispute that led her to sue the Arizona Board of Regents, ASU, the Walter Cronkite School of Journalism and Mass Communication and interim Dean Kristin Gilger.

Klein filed suit in October 2020. The U.S. District Court promptly dismissed her claims as to the Board of Regents, ASU and the Cronkite School. The court also denied Klein's request for injunctive relief – a request that would have prohibited her removal as station manager of Blaze Radio – because she "fail[ed] to provide the Court with a basis to grant an injunction."

In January, Klein submitted a notice of claim that signaled an attempt to continue litigation in state court and included an offer to settle for $500,000. A month later, Klein agreed to accept a total of $7,040 (as reimbursement for certain of her school fees) rather than continue to litigate this dispute. The parties also agreed that the case would be dismissed (with no admission of liability), and that Klein would not file any further claims.
MORE: Columbia radio station censored guest critical of 'religious dress codes'
MORE: Conservative students' 'Deplorable Radio' show remains banned from university
IMAGE: Facebook screenshot
Like The College Fix on Facebook / Follow us on Twitter