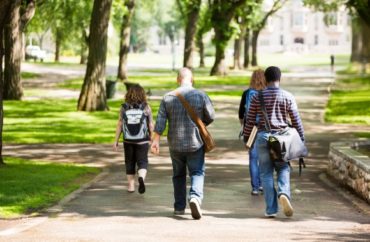 As a college student, I have been called a terrorist, a fascist pig, a conservative bimbo and a brainwashed conservative because of my Republican and Constitutional principles.
But I can honestly say I am one of the lucky ones.
I have never had my grades docked, been yelled at during the middle of class by a professor, or had my extracurricular campus clubs discriminated against. But peers across the nation have.
Right-of-center students face constant bias and oppression on campus, and I was reminded of how pressing a problem this is when I attended CPAC recently.
The issue of free speech limitations and mistreatment because of students' ideologies was the main talking point among college students at the event — and this was before President Donald Trump made an announcement pledging to issue an executive order to deny federal research funds to colleges and universities that do not support free speech.
But after he said this, students rose from their seats and boisterously cheered.
Here is just a snapshot of what some of my friends have faced over the years.
Chloe Chappell, a student at the University of Pittsburgh, has been called the "conservative paper bitch" simply because she writes for a right-leaning publication on campus. Beyond this, when she tried to seek academic credit for her internship for the Pennsylvania Republican Party, her advisor refused and told her "that's not a real internship," even though other students were earning credit for similar internships with left-leaning groups. Chappell was forced to appeal to her dean, and was eventually granted academic credit for her internship, but it was beyond unfair for her to have to fight for credit when it's granted to liberal students automatically.
When Jaime Hahn, a student at Kennesaw State University, decided to start a Young Americans for Freedom chapter, she immediately faced an uphill battle. At the time, Kennesaw State grouped student organizations within a tier system, and it placed YAF in the bottom, which meant the organization was unable to request funding for events. The group's request for funds to host Katie Pavlich was denied, and adding insult to injury, the group was required to pay an absurd security fee, even though it was estimated only about 100 people would attend. But the university had deemed Pavlich "controversial." YAF and Alliance Defending Freedom assisted in filing a lawsuit against the university and they won the suit in October. Kennesaw State agreed to change policies regarding the fees and the arbitrary tier system.
Bridgette Custis, a former student at Merrimack College, faced an inappropriate interaction with her professor in a sociology course her junior year. She didn't speak much in class, except to pose clarifying questions, even though it was clear she and her professor had very differing views. He would bring a Bernie Sanders mug to class every day and she had conservative stickers displayed on her laptop. Then one day the topic of the class was the Communist Manifesto, and their differences were brought to a boil. Her professor called on her without her hand being raised and asked her, "Why do you think this is such a terrible thing?" Custis politely responded by saying "well in a true communist society no-one would have incentive to work, so no one would. This causes food prices to skyrocket and basic necessities become a luxury." The professor replied "that's not true; communism has never actually been tried." Custis again responded, in attempt to end the conversation by saying, "I believe that you are mistaken and many countries have tried and failed, however, that is a debate for a different class as right now we are supposed to be learning the theories behind things, not the outcome in the modern world." The conversation ended by the professor telling Custis, "You and your people are THE WORST thing to happen to this country. America is not and never has been great." Custis was so uncomfortable in class that she felt the need to pack her bag and leave the classroom.
It is ironic that the left are the ones who always loudly pride themselves as being open minded and accepting, but in practice are the ones who limit the thought of conservative thinkers.
This has been an ongoing problem and conservative students are working hard to ensure that they are not silenced. I proudly stand by those who support real free speech and do not try to limit those who oppose them.
MORE: I called for diversity of thought. My peers compared me to a neo-Nazi.
IMAGE: Tyler Olsen / Shutterstock
Like The College Fix on Facebook / Follow us on Twitter