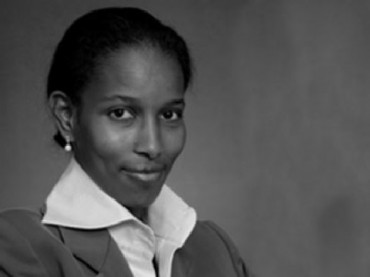 Global women's rights activist Ayaan Hirsi Ali, who was  rejected by Brandeis University as a graduation speaker last May because of her criticism of Islam – which is certainly justified after she suffered female genital mutilation and a forced marriage at the hands of that religion – is again under fire from self righteous campus activists.
Apparently any criticism of Islam is immediately dubbed "hate speech."
Now she is set to give a talk at Yale University on Monday, invited after the brouhaha at Brandeis by student conservatives at Yale who are interested in hearing her out.
Predictably, the Muslim student group at Yale and its many politically correct supporters have decried the visit and even tried to force the conservative students to limit what Hirsi Ali could talk about, or at the very least have a pro-Muslim speaker on hand who could offer counterpoints.
Really, do Muslim campus guest speakers have to have Jews at all their talks for counterpoints?
At any rate, the controversy has been covered by the Yale Daily News, National Review and other news outlets, and perhaps the best part of these reports are not the articles themselves, but the quips at the end in the comments section. Without further ado, here's a highlight reel:
Ayaan Hirsi Ali and her stupid white male Christian privilege.

No surprise that the Muslim student groups are attacking a person who has spoken out against female genital mutilation.

Good lord — this is Yale. I was under the impression that this was an institution where we chose to embrace free speech. Though many students on this campus may disagree with Hirsi Ali's views on Islam, I would like to believe that as a Harvard fellow, award-winning journalist, and former Member of Parliament, we might all be able to learn something from her.

Once you begin to realize that the Muslim Students Association was set up by the Muslim Brotherhood, then this whole mess makes more sense.

Never, never, never give as much as a millimetre to the totalitarian ideology that is truly Islam.

What's hilarious is that these supposed "best and brightest" fail to see the hypocrisy in their calling for censorship while saying they're upholding free speech and diversity of opinion.

The Muslim group wants Hirsi Ali to "…speak only to her personal experiences …" Fine. She could still enlighten with personal experience of genital mutilation and death threats.
The Yale Buckley Program members, who invited Hirsi Ali, have pledged to allow her to speak – despite the protest and without a counterpoint speaker. Score one for Lux et Veritas.
Like The College Fix on Facebook / Follow us on Twitter