There were a couple of fairly remarkable free speech-related events this past week, which should serve to reignite your vigor for the very first of the amendments to the U.S. Constitution.
We begin with this from yet another budding "journalist": "Joe Rogan, RFK and abuse of the First Amendment."
University of Michigan student Talia Belowich complains that Rogan has hosted "guests of all political ideologies, many of whom hold dangerously controversial opinions."
Note the "dangerously." Belowich peppers her piece thusly throughout.
For example, Rogan is inadequate for not "countering severe misinformation," hosting "far-right conspirator Alex Jones," and talking to "outlandish speaker" Robert Kennedy Jr. who's "spewed anti-vaccine nonsense" (emphasis added).
And as could be predicted, Belowich is yet another in a long line of young journos who claims to be a big fan of free speech — BUT:
There is no problem with enabling presidential candidates to speak freely on independent platforms; in fact, I encourage it. I would encourage politicians to go on podcasts and engage in casual conversation while sharing nuanced ideas about American policy. …

There is, however, a huge problem when the ideas being shared are dangerous and uncensored. Freedom of speech is a quintessential American ideal. But when harmful rhetorics are being blurted out without contradiction, it compromises the safety and freedom of people who are affected by the narratives.
She adds that "For the benefit of voter information and in the name of a fair and equal election, all presidential candidates should have the opportunity to be heard. But, in the case that misinformation is being spread by a presidential candidate, it should be up to the platform or host to monitor them."
Oh yeah? Let's see how that worked …
MORE: Brown U. president wants to cut ties with 'science disinformation' spreaders
University of Michigan Law Professor Barbara McQuade's got a book coming out on disinformation. Which is weird because she had tweeted out the disinformation that the Hunter Biden laptop was a Russian operation.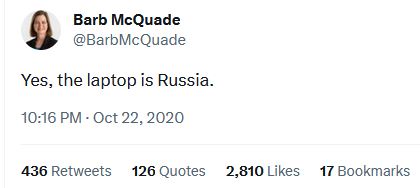 There were some other gems from her as well.
McQuade's tweet about the laptop had remained up until last weekend; she took it down after people started reposting it following her book announcement.
Worse still, she then complained that "bots and trolls" were somehow responsible … and were following the "disinformation playbook" by "undermining" her new book.
The bots and trolls are out in full force in response to my book on disinformation. Working to undermine critics is part of the disinformation playbook. They are making the case for me! 🤣

— Barb McQuade (@BarbMcQuade) July 9, 2023
How would Belowich handle this, I wonder?
There also was the case of people attacking the group Moms for Liberty because it had included a quote from Adolf Hitler on its website.
Granted, I've had my issues with the group, and whatever one's intentions it's probably not a good idea to quote a guy like Hitler. In fact, a Moms for Liberty official ended up apologizing for the quote after getting some heat.
Still, anyone with half a brain could easily deduce that the quote was anything but favorable — it clearly was in reference to how schools more and more are indoctrinating children.
But there was the Lincoln Project, a group begun by alleged Trump-disaffected conservatives, completely taking the quote (and situation) out of context. And spreading, yep, disinformation:
.@Moms4Liberty stands with Hitler.

This isn't hyperbole, it is verbatim what their own leaders preach. If we want to keep our country, we must cannot let hate groups like Moms 4 Liberty normalize their message of division. pic.twitter.com/ngGuLZmtku

— The Lincoln Project (@ProjectLincoln) July 11, 2023
Atlantic journalist Caitlin Flanagan surprisingly jumped on this bandwagon saying "Anyone in favor of teaching the 'real' history of this country would know how many American lives were lost fighting that monster [Hitler]. And what an enemy he was of… Liberty."
Ironically, Flanagan also chided the collective intellect of Moms for Liberty, yet didn't realize that Hitler being an enemy of liberty was the group's entire point.
Inez Stepman summed this up best:
Disingenuous @Moms4Liberty Hitler discourse is even more ridiculous from the ideological camp whose primary argument consists of comparing everything to Hitler

— Inez Stepman ⚪️🔴⚪️ (@InezFeltscher) July 11, 2023
MORE: Obama in Stanford speech: Disinformation 'has endangered the health of global democracy'
IMAGES: MasterClass/Twitter; Barbara McQuade/Twitter via Internet Archive
Like The College Fix on Facebook / Follow us on Twitter