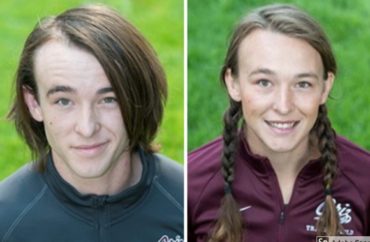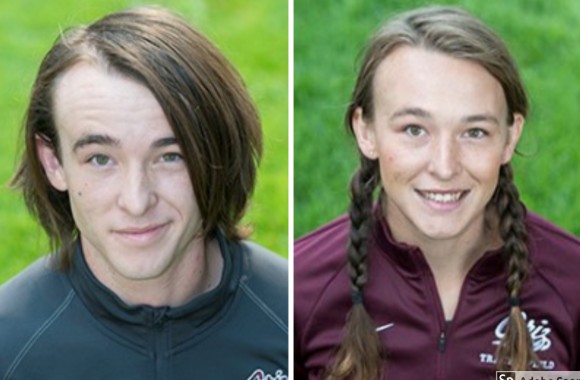 UPDATED
Dominated men's competition two years ago
Even men who identify as women typically acknowledge that they are "transgender women," clarifying that they were not born women.
The Big Sky Conference didn't even go that far when it honored a transgender woman as its "Female Athlete of the Week" in cross country. The student's university was even more circumspect, simply identifying the transgender woman as "Athlete of the Week."
June Eastwood, formerly known as Jonathan, "finished second in a field of 204 runners at the Santa Clara Bronco Invitational" and helped the University of Montana finish seventh as a team, the conference said in a press release. Both pages for "June" and "Jonathan" remain live on a University of Montana Athletics website (source of collage, above).
Eastwood's men's page appears to have been last updated in July 2018. It identifies Jonathan as a 2015 graduate of Belgrade High, names his parents and sisters, and says he's a "women's, gender and sexuality studies major." June Eastwood's page simply says the student graduated from Belgrade in 2015 and is majoring in philosophy.
Eastwood beat out eight other nominated competitors for Female Athlete of the Week, all of whom appear to be biological women judging by their official college headshots. The conference does not note Eastwood is transgender.
The University of Montana does not even note that the conference has male and female categories in its press release on Eastwood's recognition.
It simply says Eastwood was named "Big Sky Conference Athlete of the Week" after beating San Diego State University's Jenny Sandoval, who also appears to be a biological woman. (The Missoulian published a condensed version of the press release without identifying it as such, instead crediting the article to "Missoulian staff.")
Eastwood mentioned having "four years of college distance running under their [sic] belt," alluding to the student's competition in the male category as recently as December 2017. Jonathan Eastwood comfortably won that race.
MORE: Trans professor taunts female critics after winning race (again)
Eastwood's jump to female competition was noted on the LetsRun.com forum in August. The original poster did not name Eastwood:
There is an athlete competing this fall in women's cross country on a division one team who once was on a male cross country team at the division one level with [personal bests] of 3:50 in the 1500 and 14:38 in the 5000m.

This is going to shake some things up and force the NCAA to examine how it will handle this new occurrence. I can't see how this athlete won't be the favorite at the NCAA championships.

I fear for women's sports in the NCAA.
An editor's note posted to the thread – even longer than the original post – said the "athlete in question appears to be" June Eastwood. The editor changed the title of the thread and imposed a registration requirement to comment:
We imagine it's not easy to transition and ask that you please be respectful of June Eastwood the person even if you, like us, vehemently don't respect her decision to compete in D1 sports as a woman.

The reality is the NCAA's rules on transgender participation are sorely lacking. In June the NCAA confirmed in writing to us the following, "The NCAA does not have a maximum testosterone level for its current policy. The current policy is being reviewed by our membership."

There also is no independent verification of T suppression. So as long as one had a note from a medical professional saying they had undergone one year of testosterone suppression – even if they were in fact flushing the pills down the toilet – that person would be eligible to compete. But one could take one birth control pill every six months and technically be meeting the rules. It's a travesty.
It's not clear why the conference would hide Eastwood's transgender status. The "pioneering athlete" was featured as transgender by a Montana TV station in August and the University of Montana itself in September.
MORE: Trans girls take top two spots at Connecticut HS track championship
In a post for American Thinker early Wednesday, a New York state-certified cross country and track and field official noted Eastwood's first-place finish in the women's race at the Oct. 4 Montana Invitationals.
"Not surprisingly, [Eastwood] has fared quite well against his weaker and slower female competitors this season, finishing first at the U of Montana's Invitational and second (by one second!) at the most recent Bronco Invitational," Bill Zwerger wrote, noting Eastwood also topped the male category at the 2017 competition:
I have the sneaking suspicion that his latest second-place finish was due to him "letting off the gas" toward the end of the race, seeking to minimize the negative publicity his winning yet again would have garnered, along with the outrage his female opponents must feel in having a male win every race against them. It will be interesting to see what happens when he competes in the NCAA D1 championships, whether he again backs off at the end or instead decides to end his collegiate X-C career as the champion…of women.
Zwerger told The College Fix in an email Wednesday that the Big Sky Conference posted its athletes of the week after his American Thinker post went up Wednesday.
Regarding Eastwood's recognition as female athlete of the week, he said: "It doesn't get any more woke (or insane, depending on one's perspective) than this."
A spokesperson for the University of Montana Sports Information Department told The Fix there was no subtext behind the decision to identify Eastwood as "Athlete of the Week," without "Female."
"I guess that's just the way I write it," Joel Carlson wrote in an email. He did the same for other athletes last month and in March who were recognized by the Big Sky Conference.
The Fix also sent queries to communications officials for both track and field and cross country at the Big Sky Conference, asking whether its failure to mention Eastwood's transgender status is conference policy and how it handles nonbinary, genderfluid or other students who do not consistently identify as "male" or "female."
The University of Oklahoma recently revised campus awards to remove sex terms entirely after a nonbinary student complained.
Read Big Sky's announcement and university press release.
CORRECTION: The original post referred to the wrong Montana university in a few places and incorrectly said that Eastwood's school left the runner off its own athletics home page. Eastwood attends the University of Montana. The post has been fixed. A sports spokesperson at the university also responded to a query after this post was published. His comments have been added.
MORE: Feds investigate Connecticut athletics for letting boys in girls' competitions
MORE: Reducing testosterone may not erode men's advantage over women
IMAGE: University of Montana Athletics
Like The College Fix on Facebook / Follow us on Twitter