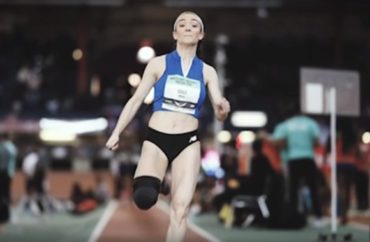 And whether girls faced retaliation for advocacy against transgender policy
The Connecticut Interscholastic Athletic Conference allows high school athletes to compete based on their subjective identification with the opposite sex, not just their biological sex.
The result has been domination of girls' track and field events by biological males, including by one male who couldn't cut it in male track and then shattered 10 records in female track.
Female athletes in Connecticut say it's a violation of Title IX – and the Department of Education is willing to hear them out.
The agency's Office for Civil Rights in Boston agreed to open an investigation into the allegations by Selina Soule (above), two unnamed students and their parents, including that they faced retaliation from CIAC and the Glastonbury Board of Education for advocating against the "Transgender Participation Policy."
OCR has jurisdiction over the matter because the school district receives federal funding and because the district and other recipients "ceded to the CIAC controlling authority over athletic programs," according to the Wednesday letter from Adrienne Mundy-Shephard, acting regional director.
The feds have a model policy they can cite if they don't want to completely ban biological males from competing in girls' sports. The NCAA's transgender policy requires males to take testosterone-suppressing hormones for at least a year before competing in a female sport.
MORE: Competed as man last year, won championship as woman this year
The investigation will probe whether CIAC and the district "denied equal athletic benefits and opportunities to girls" in violation of Title IX. Retaliation is also a violation of Title IX, and OCR will consider whether CIAC retaliated against the first complainant when its executive director stopped "accept[ing] communications" from her. (The parents are identified as "Complainants," and their daughters as "Students.")
The second retaliation claim OCR will investigate is broader and appears to reference allegations by Soule, the only student who named herself, and her mother:
Whether the District retaliated against Student 2 for her and Complainant 2's advocacy against the Transgender Participation Policy when Student 2's track coach replaced the Student 2 on the sprint medley relay team in February 2019, told the Student 2 and her parents that he could not give a good report to college coaches about her, and denied Student 2 a position as a team captain, and suggested that she should leave the outdoor track team due to her schedule in March 2019 …
MORE: 'They took away the spots of deserving girls'
The Title IX complaint was filed on behalf of the families by the Alliance Defending Freedom. In a press release Thursday, the public interest litigation firm thanked OCR for investigating and said the CIAC policy makes girls "spectators in their own sports":
Title IX is a federal law that was designed to eliminate discrimination against women in education and athletics, and women fought long and hard to earn the equal athletic opportunities that Title IX provides. Allowing boys to compete in girls' sports reverses nearly 50 years of advances for women. …

Selina and her fellow female athletes train countless hours in hope of the personal satisfaction of victory, an opportunity to participate in state and regional meets, or a chance at a college scholarship. But girls competing against boys know the outcome before the race even starts.
Read the OCR letter and alliance release.
MORE: Trans girls win 1st, 2nd at state track championships
MORE: The end of women's sports?
MORE: You're racist if you oppose men in women's sports?
IMAGE: The Daily Signal/YouTube
Like The College Fix on Facebook / Follow us on Twitter