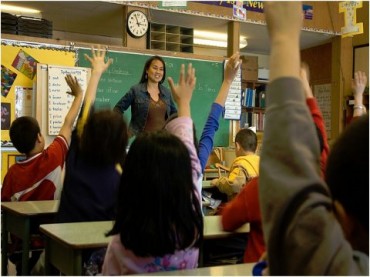 The 50 largest school districts in America collectively spend $8 billion a year on professional development for teachers. What are they getting out of it? Bupkis.
That's according to a new study titled The Mirage by the nonprofit TNTP, formerly The New Teacher Project, which interviewed 10,000 teachers and 100 administrators in three large districts and one charter school network over two years. It got the $8 billion figure by extrapolating out from the $18,000 average spent per teacher in the districts it studied.
"most teachers do not appear to improve substantially from year to year"

"no evidence that any particular kind or amount of professional development consistently helps teachers improve"
Teachers are spending a tenth of the school year in professional development. As The Washington Post summarizes:
In the TNTP study, about one-third of teachers — 3 out of 10 — improved over a two-to-three-year period after participating in training while 20 percent got worse, as measured by teacher evaluations.

The study also found that school districts are not helping teachers understand their weaknesses. Fewer than half of the teachers surveyed agreed that they had weaknesses in the classroom while more than 60 percent of teachers who earned low performance ratings gave themselves high grades.
Eric Hanushek of the Hoover Institution says schools aren't responding to tangible failures:
"They have to manage the use of professional development, evaluate its usefulness and dump the bad stuff. Which is a common problem in schools. They add something, and if it's not working, they add something on top of that. They're good at adding, not as good at taking away."
Read the executive summary and the Post story.
Like The College Fix on Facebook / Follow us on Twitter
IMAGE: audio-luci-store.it/Flickr
Like The College Fix on Facebook / Follow us on Twitter