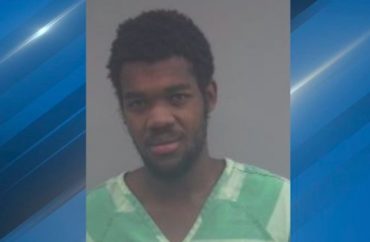 A man at the University of Florida recently was arrested a third time for vandalizing a sign at the campus Institute for Black Culture.
Twenty-seven-year-old Marvelle Blair (pictured) allegedly ripped out the institute's sign and was recognized by campus police via surveillance video, the student paper The Alligator reports.
The university put out a news item about the incident noting that Blair was charged with "criminal mischief, trespass after warning and assault on a law enforcement officer."
Blair committed the exact same act in May and November of last year.
The university and The Alligator note that Blair's antics come a few weeks after monuments honoring black fraternities and sororities at UF's National Pan-Hellenic Council Garden were vandalized. Police do not believe the incidents are related, however.
But whereas the monuments incident was "identified as a hate crime" by state officials, UF said law enforcement has "no indication that Blair's actions were motivated by hate."
This may be due to what both the university and student paper fail to mention in their reports: that Blair is black. Students and others in the UF community would only know this by checking out a local news site.
MORE: Public univ. hides results of hate-crime investigation, including suspects' race
Nevertheless, the UF Black Student Union and Center for Inclusion and Multicultural Engagement issued a statement imploring the campus to "show resilience against the vandalisms": "We are filled with both sadness and frustration that we must continue to fight against disgraceful acts that impact spaces that have been created for the Black community."
The statement also noted the BSU and the university will collaborate on an "action plan to support the Black community."
UF and The Alligator appear to be following what is fairly common politically correct procedure these days in the name of not "perpetuating stereotypes."
Last year, the Texas State University student paper condemned a crime alert which noted the suspect's race (black) saying "The harm this university placed Black students in cannot and should not be understated." The University of Maryland's The Diamondback neglected to note two suspects' race (black) in a pair of high-profile hate incidents.
The University of Illinois at Chicago stopped using race in crime reports noting "The decision is a proactive progressive measure balancing public safety with the potential negative perpetuation of stereotypes." A year before, the president of the University of Louisville actually apologized for a campus crime alert which included a suspects' race — because it "likely made many on our campus feel less safe than more safe."
Yet … perpetuating by omission the stereotype/narrative that black students are somehow in danger on campus is a-ok.
MORE: U. Nebraska students angry that race of suspects used in campus crime reports
IMAGE: CBS4 Gainesville / Twitter screencap
Like The College Fix on Facebook / Follow us on Twitter