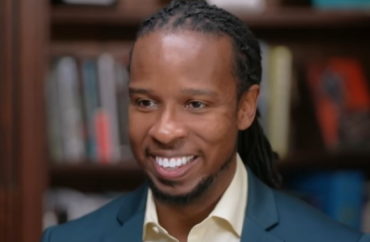 Kendi's Center for Antiracist Research under investigation for possible financial mismanagement
Soon after Ibram Kendi launched the Center for Antiracist Research at Boston University in 2020, administrators approved a $600,000 mortgage to a professor, a loan given to a trust controlled by Kendi's brother-in-law, according to a new report in the Washington Free Beacon.
Campus officials refused to tell the Beacon who the beneficiary of the loan was, but the article points out whichever unnamed professor benefitted, the money was "doled out to a trust controlled by Ibram X. Kendi's brother-in-law, Macharia Edmonds."
"The mortgage helped to cover the down payment for a $4.56 million luxury penthouse triplex," the outlet reported Oct. 6 in an article headlined "Boston University Loaned $600K to a Mysterious Trust Run by Ibram Kendi's Brother-In-Law."
According to the article:
Edmonds's only apparent affiliation with Boston University is through Kendi, who is married to his sister, Sadiqa, also an associate professor at Boston University. Edmonds controls the trust on behalf of its unnamed beneficiary. While it's not uncommon for universities to provide sweetheart loans and mortgages with below-market rates to poach star professors from their competitors, experts told the Chronicle of Higher Education in 2009 that the IRS strongly discourages such transactions. …

Boston University spokeswoman Rachel Lapal Cavallario told the Free Beacon that the beneficiary of the trust is a professor at the university but declined to provide the person's name, the interest rate of the loan, or how much has been repaid. Cavallario added that the professor "applied for and received the loan under a longstanding university program to assist senior faculty with their housing needs," but declined to provide the Free Beacon any documentation about the university's faculty home loan program.
The report comes in the wake of news that Boston University is investigating the Center for Antiracist Research for possible financial mismanagement.
Boston University is reviewing the "culture and its grant management practices" following complaints. The center reportedly raised $55 million, which includes at least $10 million from former Twitter CEO Jack Dorsey.
The probe was launched after BU Professor Saida Grundy raised concerns in 2021, according to the student newspaper, and also after The College Fix and other media outlets questioned Kendi's output.
Most recently, and just prior to the public implosion of the center, The Fix reported that Kendi had not written an academic paper in the past four years. The Aug. 21 article noted he had written at least two children's books in the same period.
In March 2021, The Fix asked "What exactly does Ibram Kendi do all day," following original Fix reporting that Kendi had made at least $300,000 lecturing on how America is racist.
The Fix also questioned a promised "Racial Data Lab" in January 2021 that failed to materialize.
Regarding the recent allegations, Kendi has argued it's motivated by racism.
MORE: University of Illinois paid Ibram Kendi $35,000 for 60-minute Q&A
IMAGE: YouTube screenshot
Like The College Fix on Facebook / Follow us on Twitter