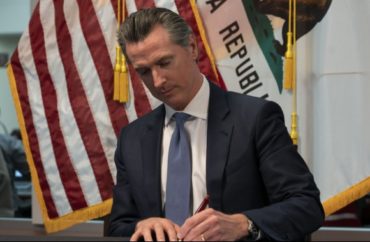 Environmental groups had sued to block new construction on campus
California Gov. Gavin Newsom signed a new law Monday that grants UC Berkeley a reprieve from a court order to cut enrollment by 3,000 students in the fall due to environmental concerns.
The legislation ends a tumultuous period at the school during which a local group called Save Berkeley's Neighborhoods filed a lawsuit to stop the highly sought-after campus from expanding its enrollment. Part of this enrollment boost involved constructing a new faculty housing complex on campus, which required the school to obtain an environmental impact statement.
Save Berkeley's Neighborhoods argued that the school had not fully accounted for the environmental impact of the housing project and the ancillary effect of adding thousands of new students to the campus.
The initial lawsuit was filed in 2019; just weeks ago, the California Supreme Court affirmed the claim against the school and ordered an enrollment freeze pursuant to a California law requiring extensive environmental impact studies before building projects can move forward.
The university said the enrollment freeze would have cost it $57 million in tuition revenue.
"On behalf of the thousands of students who will benefit from the vote, I want to thank California's legislators for their quick and effective response" said UC Berkeley Chancellor Carol Christ in a statement emailed to The College Fix following passage of the relief bill.
"At Berkeley we are, and will remain, committed to continuing our efforts to address a student housing crisis through new construction of below market housing. We look forward to working in close, constructive collaboration with our partners in Sacramento in order to advance our shared interest in providing California students with an exceptional experience and education."
Critics of the lawsuit argued that the citizens of Berkeley were simply opposed to providing more lower-income housing for students and faculty, which some citizens may have worried would damage their own home values.
"It is unacceptable for NIMBY lawsuits to strip students of their right to a quality education by blocking housing and effectively forcing schools to reduce enrollment," said Democratic state Sen. Scott Wiener in a press release announcing his bill to grant the new housing project to the Berkeley campus.
The legislation moved quickly through the state house. It was introduced on Friday, passed both houses of the legislature unanimously on Monday, and was signed into law the same day.
"I'm grateful to the Legislature for moving quickly on this critical issue — it sends a clear signal that California won't let lawsuits get in the way of the education and dreams of thousands of students, our future leaders and innovators," said Newsom, who had been on the side of UC Berkeley as the lawsuit worked its way through the courts.
UC Berkeley spokesman Dan Mogulof told The Fix that with the legislation signed by the governor, the university will return to its original admissions and enrollment targets, extending admissions offers to more than 15,000 incoming freshmen and then to more than 4,500 transfers in mid-April.
The public university had also announced mitigation plans allowing some of the accepted students to attend remotely. But Mogulof said those plans are no longer needed and will not be implemented.
"All offers of admission will be for in-person only, as originally planned," he said.
Approximately 400 graduate school enrollment slots also will be reinstated.
The group that sued Berkeley to freeze enrollment objected to the new law, calling it poorly drafted.
"UC Berkeley does not have the capacity to handle more students, and more than 10 percent of current Berkeley students suffer homelessness during their education," President Phil Bokovoy said in a statement following Newson's bill signing. "In addition, more than 15 percent suffer from food insecurity. We don't want new students to have to live in cars, campers and hotel rooms like they are in Santa Barbara."
MORE: Top Berkeley scientist resigns post, cites his peers' intolerance of viewpoint diversity
IMAGE: Governor of California office/Gov.ca.gov
Like The College Fix on Facebook / Follow us on Twitter