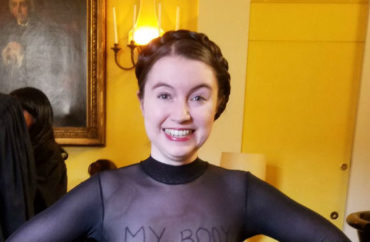 'The first living human petition'
"Brexit leaves Britain naked." That was the message scrawled on economics scholar Victoria Bateman's completely nude body during a recent lecture she gave at which audience members were also allowed to "create a living anti-Brexit petition by signing her bare body," Inside Higher Ed reports.
The Jan. 14 event was titled: "Brexit: The Naked Truth." A description of the event said it would delve into the "economic, political and social damage that Brexit will cause, drawing on her expertise in economic history as well as detailing the practical and emotional impact on her own academic community."
Signing her body attempted to create "the first living human petition," the description noted, adding "expect impassioned argument and nudity in equal measure."
This is not the first time the University of Cambridge lecturer has taken on controversial issues by baring her breasts and vagina. In 2016, she protested Brexit in the same exact way: naked. And last summer, she went semi-naked to an end-of-term university dinner with the pro-abortion slogan "my body my choice" written on her upper chest and stomach.
"Women's bodies are one of the big battlegrounds we face today, whether in terms of women's access to birth control, sex workers' rights or clothing, including burka bans," Bateman told Inside Higher Ed. "By covering up the body, these problems don't go away. Instead, we fail to address them because we think of the body as something that's embarrassing and not to be talked about in polite — or academic — company."
… As she saw it, however, "the relevant question is not 'Why use your naked body?' but 'Why not use your naked body?' Reversing the question in this way helps to reveal people's inner thoughts or presumptions about women's bodies: that when a woman shows her body it devalues her worth or decreases the respect people have for her." She also believes "in the power of art to go beyond what academic writing alone can offer … I've condensed all my words into one simple message: that Britain has been sold the emperor's new clothes."
Bateman posted a portion of her nude lecture on Twitter, which garnered a fair amount of humorous mocking on the social media platform.
MORE: Crowd of college coeds go topless in quad to protest indecency laws
IMAGE: Twitter
Like The College Fix on Facebook / Follow us on Twitter