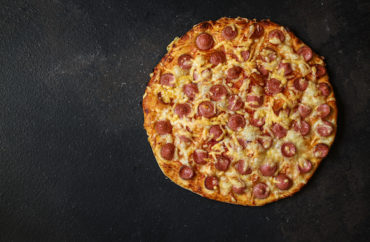 Making campus 'safer by the slice'
The University of Texas at Austin offers students a unique opportunity to get free pizza: All they have to do is call in emergencies or crime tips to the campus police department.
The school recently started a program titled "Safer by the Slice" to incentivize students to submit "crime tips" and to perform "emergency intervention." The campus police website says the program is "our way of thanking UT community members for helping us keep the campus safe."
Noting that a call does not have to lead to an arrest in order to qualify for a pizza, the website states: "Maybe your call is to a report a medical situation and you save a life. Our officers will use this program to reward you for your quick action. Rewards are based on officer discretion."
Campus spokeswoman Noelle Newton told The College Fix via email that the program arose out of another campus promotion that was very similar.
"We had a former program called Hungry for Justice. It was created more than a decade ago as a way of encouraging members of the UT community to call 911 if they saw a bike theft in progress. If their call lead to an arrest, we'd give them a free pizza of their choosing," she said.
Social media posts show that Hungry for Justice lead to a number of crimes being stopped over the years. Last year the university's police department presented two school landscapers with a pizza lunch for phoning the police while witnessing a bike theft.
The school police department also gave pizza to an individual in 2017 who recognized a wanted felon on campus and reported him to police, suggesting the earlier program was sometimes used to reward general crime tips. In 2014, campus police also awarded one bystander a pizza for stopping a bike theft.
Newtown said Hungry for Justice's name "didn't fully support our policing philosophy. It seemed a little too vigilante." Consequently the department re-branded the program, expanding it to include all crimes and not just bike thefts.
"If a student takes amazing action that saves a life, we want to do something to thank them. We re-named the program to 'Safer by the Slice' and partnered with University Housing and Dining to keep the business local. Instead of going to outside pizza restaurants, we now give students pizza from a dining area here on campus to further support our UT community," she said.
"Officers who respond to 911 calls will be looking for those outstanding circumstances of intervention and will make recommendations to our command staff. Our command staff will give approval on who to award pizzas," she added.
Newton said that since the program's launch on Oct. 8, one crime—a bike theft—has been stopped due to a phone call. The student who reported that crime was awarded a free pizza.
A crime log published by the university's police department indicates a significant amount of criminal complaints on campus. The record, which updates daily and catalogues crimes over the past two months, details numerous incidents including assault, theft, several "terroristic" threats, and a few "smell[s]" of marijuana.
The school seems to have issues with bicycle thefts. The crime log lists nearly three dozen stolen bicycles over the past few months. The campus police department's "Campus Watch" website urges students several times to lock their bikes up and even register them with the school's Parking and Transportation Services.
MORE: Campus police instructed to flag potential bias of people reporting crimes
MORE: Students reportedly upset with 'passive' police response to street preacher
IMAGE: Alesia.B / Shutterstock.com
Like The College Fix on Facebook / Follow us on Twitter