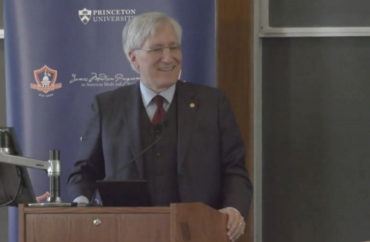 'The fact that I had to have a bodyguard and had death threats for standing up for life as a physician in medicine shows just how far adrift the culture around medicine has become,' one panelist said
A recent panel at Princeton University explored whether "dissenters" from wokeness can "survive."
The event, hosted by the James Madison Program in American Ideals and Institutions, featured academics and commentators who discussed "woke propaganda" on college campuses. Princeton Professor Robert George, who organized the event, told The College Fix he put together the event to discuss the "two competing views of the mission of the university."
"The first—the traditional view—understands the mission as the disinterested pursuit of truth," he said via email. "The second understands the mission as advancing social justice and, indeed, a very particular, secular progressive and identitarian vision of social justice."
"If truth-seeking is the mission, then academic freedom (and the viewpoint diversity that flourishes in conditions of genuine academic freedom) must be prioritized, and indoctrination must be utterly eschewed," he said. "If the mission is to advance a particular vision of social justice, then academic freedom will be deprioritized, conformity to ideological orthodoxy will be the norm, and professors will regard it as their job to form and police the moral and political opinions of their students."
A video of the event recently became available for public viewing.
One speaker who has seen pressure from her own students is Dr. Kristin Collier, a professor at the University of Michigan's medical school. Students at the school tried to get her canceled as the keynote for the White Coat Ceremony which welcomes new medical students. She is opposed to abortion and euthanasia.
In response to the controversy, the University of Michigan promised to hold a panel on intellectual diversity. However, the panel ended up being a group of liberals without any identifiable opposing views, as reported by The Fix.
"The belief that an opinion is pernicious, false, or in any other way detestable cannot be grounds for its suppression," she said during the panel event May 26. "The fact that I had to have a bodyguard and had death threats for standing up for life as a physician in medicine shows just how far adrift the culture around medicine has become."
When it comes to if dissenters can survive, Collier said it is, in her case, "yet to be determined." But she said that her "identity" is rooted in her Christian faith and that comes before her career.
She gave some words of encouragement for her fellow dissenters and urged them not to grow frustrated in the efforts to combat the "woke agenda."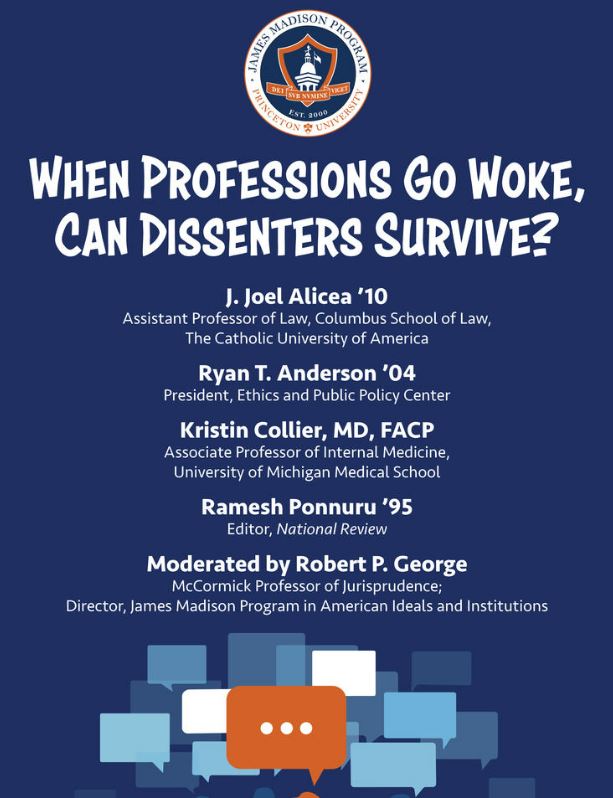 "I strongly believe that if we lose the dissenter, especially at our large institutions that so dearly love those for whom the inherent worth and inviolable dignity of every human being is worth protecting and fighting for, then I believe a great tragedy will ensue," she said.
She also urged better conscience protections for people who are opposed to some medical procedures.
Joel Alicea, an assistant professor of law at Catholic University of America's Columbus School of Law, sees some hope for the legal world that other disciplines do not share. He said protesters, like those law students who shouted down a federal judge at Stanford University, will struggle as attorneys.
"If law schools are only producing people who think like the protesters at Stanford, those will be bad lawyers," he said. "Those lawyers will not know how to articulate legal arguments to an audience that doesn't agree with them."
He continued:
My hope is that over time both the legal profession in terms of large-scale law firms but also the law schools that produce the lawyers for those firms will, through their own self-interest, their financial interest, if not through conversion, come to abandon at least the worst excesses of that ideology.
Other speakers included National Review editor Ramesh Ponnuru and Ethics and Public Policy Center President Ryan Anderson, who wrote a book with Professor George.
In his comments to The Fix, George laid out the purpose of his classroom in the face of the "woke agenda."
"My job is not to get students to agree with my opinions. It is to expose them to the best that has been thought and said on all sides of the issues we address in my courses so that they can assess the evidence and arguments and decide where they think the truth lies," he said.
"If it is not my job to get students to hold opinions I regard as correct, what is my job as a professor? It is to encourage and empower my students to think more deeply, more critically (which always includes thinking self-critically), and for themselves," he said.
"It is to help them to be thinkers and to avoid being or becoming dogmatists and ideologues," George said. "My job is to help form students as determined truth seekers and courageous truth speakers."
"If they leave my courses more deeply, desiring to know the truth, better equipped to pursue the truth, and inspired to speak the truth as best, they grasp the truth—even when it is unpopular, even when speaking the truth is dangerous—then I will have accomplished my mission."
MORE: Yale law students shrieked like banshees to drown out free speech event
IMAGE: James Madison Program at Princeton University
Like The College Fix on Facebook / Follow us on Twitter