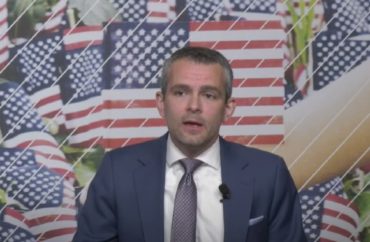 Gettysburg College officials defend fund denial
Gettysburg College Student Senate recently voted to deny funding to a Young Americans for Freedom event with Ryan Anderson due to his views on LGBT issues.
Anderson (right), the president of the conservative Ethics and Public Policy Center, is a frequent commentator on issues such as abortion, gender dysphoria and transgenderism as well as marriage.
YAF asked for "around $5,000" spokesperson Kara Zupkus told The College Fix Friday morning. She said the group is aiming for an April date for a speech about gender identity issues at the private Pennsylvania university.
But that topic should not be up for debate, according to some student senators.
"I just don't think that someone's identity is a debate," student senator Anna Benson said during a recent meeting.
NEW: The student government at Gettysburg College denied its YAF chapter 100% of funds requested for a proposed @RyanTAnd campus lecture.

Leftists accused the YAF activists of trying to incite violence against transgender students by bringing a conservative speaker: pic.twitter.com/WgFRPqTBa6

— YAF (@yaf) March 22, 2022
"It could, would make students feel unsafe and unwelcome to have someone who's actively speaking out against another person's identity," Benson said. "And I just don't think that's right for us to do…with students who are very marginalized and unsafe."
Another student criticized Anderson, who wrote a book called "When Harry Became Sally," which discusses the recent problems with gender identity and transgenderism.
Social Affinity Group leader EJ Gill asked his peers to weigh "discourse" against "keeping our trans and LGBTQ students and peers safe in this community."
MORE: 'Calling in life' comes from God, Anderson says
"And that's really what it boils down to," Gill said. He said Anderson's book "invalidates transgenders." He said Anderson would "spew hate" based on his stance that transgenderism or gender dysphoria are mental illnesses.
Gill said he would be okay allowing YAF to bring Anderson, just not using the mandatory student fees collected from all to pay for the event.
"It's important to have discourse, but we don't have to listen to transphobes," former student senate president Luke Frigon said during the discussion.
The campus YAF chapter responded to the accusations in the article posted by the national organization.
Gettysburg YAF Chairman Andrew Breschard stated:
The Student Senate had a chance to allow us to bring Dr. Anderson to campus to articulately lay out the conservative view on transgenderism and interact with students who disagree with him. Instead, they chose to continue to perpetuate a culture of silencing views they do not wish to hear, labeling conservatives as transphobes and their ideology as bigoted.
The denial of funds has the support of the university.
"YAF has the right to invite Dr. Anderson to campus. No action taken by the Senate last night interferes with YAF's right to invite Dr. Anderson to campus," a Gettysburg College spokesperson told the national conservative group.
"That said, our Student Senate did decide to not allocate funding for this speaker, for which it has discretion," the spokesperson stated. "Importantly, last semester, the Senate agreed to support a request from YAF to fund a different speaker."
"To be clear, if YAF wishes to invite Dr. Anderson to campus then it has the right to do so—subject to the College's ordinary rules about time, place, and manner," the spokesperson reportedly told YAF.
MORE: Yale students host canceled conservative authors
IMAGE: YAF/YouTube
Like The College Fix on Facebook / Follow us on Twitter