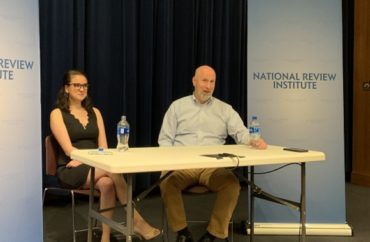 U. Michigan event delves into civil discourse in the age of Trump
ANN ARBOR, Mi. — Tackling the issue of conservatism in the age of President Donald Trump, two writers for National Review told a room full of college students at the University of Michigan recently that civility is not only possible, but preferable.
They argued that the greatest weapon the right has against the left is its ability to listen to and respectfully challenge its opponents' ideas, noting the truth cannot be defeated. But the advice comes during a complicated time in American history, they acknowledged.
"Can you be civil and decent and still 'own the libs'? … We live in a world where it seems as if persuasion is gone and what we are doing is trying to stoke our own bases as a way to win," said David French, a senior writer for National Review and former president of the Foundation for Individual Rights in Education.
Electorally speaking there's data showing that tactic is effective, he said, but "politics is downstream from culture."
French was joined by National Review writer Alexandra DeSanctis as the duo recorded an episode of "Ordered Liberty," a podcast by National Review, on April 10. The podcast is focused on the culture surrounding politics and American society.
This episode centered around the importance of decency in discourse and virtue in conservatism. French noted that Americans — and college students — have never had more freedom of speech rights than at this exact point in history, yet they also have never felt less free to share their political opinions on social media or among their peers.
This is not because of compulsion of law, but instead a culture of shaming and mob behavior among peers and employers, he said.
DeSanctis noted that there is a tendency to fight fire with fire or push back twice as hard and embrace Trump due to his ability to punch back against those who resent conservatives and Republicans. This may be a way to score a cheap victory in a short Twitter battle, but is not a way to win support or convince an audience you are a more rational and well thought out thinker thus scoring a victory in the war of ideas, she said.
"There is this perspective that if we are not punching back twice as hard we're the losers. And it makes sense because conservatives have been stepped on for a long time in the culture wars and continue to be," she said. "But if your answer is a guy who makes it all a lot nastier and let's continue to talk about him as the solution I think we're heading in the wrong direction whether on campus or in our broader conversations about these issues."
Perhaps the most incisive point of the evening was French noting the conflation of manner with ideology. According to French, President Trump is the most politically moderate GOP nominee in almost 50 years and has been on every side of every issue, yet due to his contentious manner and aggressive demeanor is hardly thought of as a moderate politician.
In striking contrast, Democrat presidential candidate Pete Buttigieg is a mainstream progressive with the same radical positions as his peers, yet due to a calm demeanor and a lifestyle deeply rooted in an Episcopalian tradition comes off as a calm and reasoned thinker.
French and DeSanctis noted that they are both fundamentally conservative with unwavering views, yet are known as moderates due to their calm demeanor and intellectual approach to communicating ideas.
French's advice to the nearly 50 audience members was to avoid creating and directing political speech and ideas toward the unpersuadable and staunch opposition. Instead, French suggests directing public expression of ideas to an imaginary persuadable and open-minded audience.
And DeSanctis, who is deeply engaged in the fight against abortion and infanticide in America, added that tolerance and maintaining a calm demeanor through any exchange no matter how contentious has made her gain significant high ground on those so intolerant they refuse to even hear facts of personhood and biological realities.
The persuadable audience is not as imaginary as one may think and the only way conservatives will win them over will be tolerance and respect for unpersuadable zealots and staunch opposition, they argued.
Michigan freshman Ryan Fisher, who is both a conservative activist on campus and heavily involved in the pro-life group Students For Life, attended the event hoping to hear insight on facilitating more civil and effective discussion on campus in order to be a more principled thinker and better activist.
Fisher stated he learned that "whom we elect to office and the laws we make will not cure our social ills, that is incumbent on us."
Clare Ath, the campus outreach coordinator at the National Review Institute, told The College Fix that the "Ordered Liberty" podcast has been incredibly popular among college students due to relevant issues facing America's adolescents and young adults that French (a father of 3) and DeSanctis (a 2016 college graduate and former College Fix contributor) spend significant time communicating about.
National Review Institute plans to launch the campus broadcast full scale in Fall 2019, she said.
Michael A. Wolff is a sophomore at the University of Michigan Ann Arbor pursuing dual degrees in political science and Middle Eastern history.
MORE: 'Owning the libs' is fun – and it doesn't persuade anyone on campus, conservative writers say
Like The College Fix on Facebook / Follow us on Twitter