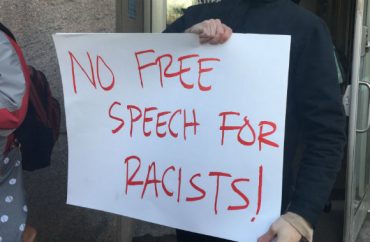 Faculty at the University of New Brunswick in Canada have signed on to a letter lambasting a "controversial" sociology professor as a "racist without academic merit."
According to The Globe and Mail, the academics also allege the way Professor Ricardo Duchesne "cloaks his views in academic legitimacy is an abuse of his status as a professor."
In response, Duchesne pointed out he is an immigrant (from Puerto Rico) of mixed-race parentage who merely "questions an ideology initiated and supported by privileged whites": that of the "mandated ideology of diversity and mass immigration."
"It is rather rich for the academics who signed this letter to claim that the 'hallmark of academic freedom' is to subject views to criticism while at the same time seeking to deny my right to criticize [diversity and immigration]," Duchesne wrote. "None of the individuals who signed this letter has any scholarly background in the subject of Canadian immigration or multiculturalism."
Duchesne is no stranger to feuds; last year he was involved in a contentious free speech event featuring the Laurier Society for Open Inquiry and Faith Goldy. He's the author of the book "Canada in Decay: Mass Immigration, Diversity, and the Ethnocide of Euro-Canadians" which takes on the "undemocratic policy of mass immigration and racial diversification" in the country, and he also contributes to the Council of European Canadians' blog where he recently opined mass immigration in Canada is "downgrading European civilization."
Gary Waite, a UNB history professor who researches forms of racism, is among the faculty members who signed the letter.

"We are … trying to make it very clear that racism has no place in academia," Prof. Waite said. "It is not a part of scholarship. It is not just another controversial idea. It is just wrong … and it should not be presented as credible by someone who has the office of professor here.

"I can say there isn't a single historian that I know – and I know historians from around the world – who would be afraid to call what he says 'racist.' It just is." …

UNB president Eddy Campbell said in a statement this week that the university is reviewing allegations involving one of its faculty members.

"We take these allegations very seriously. I want to remind the community that this will take time as it is important we follow the processes through which universities and the members therein are held accountable," he wrote.
The Canadian Association of University Teachers' David Robinson said "The issue is whether there is any evidence to show that Prof. Duchesne, because of his extramural comments, is incompetent to be a teacher any more," noting that a "thorough and rigorous investigation" needs to be completed and not a "trial by social media."
Read the Globe and Mail article.
MORE: U. requires viewpoint diversity group's events to pass 'health & safety' review
MORE: Viewpoint diversity club's event canceled due to security fee: $28,500
Like The College Fix on Facebook / Follow us on Twitter