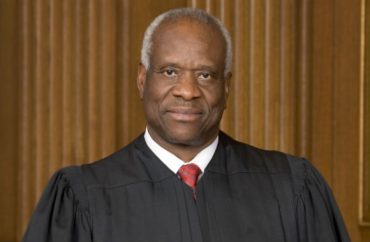 'My existence is not up for debate,' student organizer writes
A student at George Washington University continues to demand that college officials fire Justice Clarence Thomas.
Rising junior Jon Kay has failed so far to get GWU officials to fire the conservative Supreme Court justice from his role as an adjunct.
But Kay continues to advocate for Thomas' removal due to the justice's vote Roe v. Wade and his concurring opinion in support of revisiting past SCOTUS cases on sodomy, contraception and same-sex unions. His petition now has over 11,000 signatures.
Kay wrote on July 7 in the campus newspaper:
In his concurring opinion in Dobbs v. Jackson Women's Health Organization, Thomas welcomed opportunities to overturn decisions that granted Americans basic human rights that are the hallmarks of a functioning democracy, like access to contraception and the freedom to love who and how they want. Thomas didn't just help overturn Roe – he has made it clear that his work will continue until he demolishes the rights of queer people and people with wombs, including those who attend GW.
Kay also criticized Ginni Thomas, the wife of the Supreme Court justice, for communicating with President Donald Trump's attorney John Eastman on ways to challenge the electoral votes of certain states with the goal of keeping the president in office.
Kay wrote that it's one thing if Justice Thomas wants to have private beliefs, but when he uses his role as a federal judge to put those values into practice, that is a line too far.
"Yet Thomas doesn't have opinions like I or my peers do – his words carry the force of law on the bench, and they're inseparable from how LGBTQ+ and other students experience his class and his presence on campus," he wrote in The GW Hatchet.
MORE: Academics throw tantrums over Roe reversal
"Continuing to employ Thomas tells students that they can and should debate their identity with the same person that has spent his entire judicial career trying to criminalize their existence," Kay wrote.
"My existence is not up for debate," he wrote. "GW does and should allow its students and faculty to express a wide array of beliefs without fear of punishment, but Thomas' beliefs are beyond the pale."
What is at stake is "our democracy," according to the GWU student.
"It takes courage to fire a professor who also happens to be a sitting Supreme Court justice, and under normal circumstances, it would be stupid to do so," he wrote.
"But these aren't normal circumstances, and Clarence Thomas isn't a normal Supreme Court justice," according to Kay. "The University can find other high-profile, experienced and even conservative jurists who respect our democracy and respect their students."
MORE: Check out the Campus Cancel Culture Database
IMAGE: Supreme Court of the United States
Like The College Fix on Facebook / Follow us on Twitter