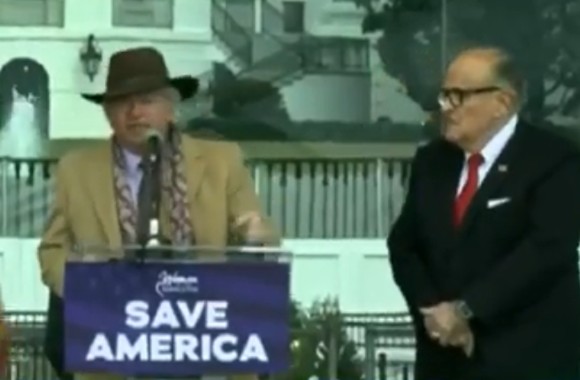 It claims his classes are too unpopular to teach
The University of Colorado-Boulder dumped a professor who spoke at President Trump's "Save America Rally" on Jan. 6, claiming the enrollment in his classes was too low.
But a civil liberties group believes this was a pretext to remove John Eastman for his viewpoint, specifically his allegations of voter fraud in a speech that lasted less than three minutes.
The university initially said it had no intentions of releasing Eastman, previously a lawyer for President Trump, despite demands for punishing the conservative professor.
Days later, however, Eastman's supervisor ripped into him for causing "irreparable damage" to the Benson Center for the Study of Western Civilization, where he remains a visiting scholar in conservative thought and policy until May 7.
Director Daniel Jacobson also accused Eastman (above, left) of bringing "terrible press" on the center, which welcomed its inaugural visiting scholar nearly eight years ago. It expanded to two scholars two years ago.
The Foundation for Individual Rights in Education warned the taxpayer-funded university Wednesday that its actions against Eastman violate the First Amendment.
His words at the rally didn't constitute incitement, which would have removed their constitutional protection, the group argued: He wasn't present at the Capitol riots or a participant in any of the unrest that followed.
The College Fix twice received automatic reply emails from CU-Boulder's media department saying no one was available to answer queries.
Eastman told The Fix in an email that he is "exploring all options" in response to the public university's actions against him. He said a "major op-ed" on the subject will soon be published in  "one of the local Denver papers."
Emails obtained by the Boulder Daily Camera show that University of Colorado regents were concerned that Eastman would sue the university if he were fired specifically for his speech at the rally.
The professor has already lost one university affiliation in response to his role at the rally. He agreed to retire as a Chapman University law professor, even as he told The Fix that more than 160 Chapman faculty had defamed him in their call for his firing.
Chapman administrators also initially defended Eastman's right to his views, but unlike CU-Boulder, they were only legally obligated to honor their contract with the professor.
MORE: Eastman retires from Chapman after attempt to get him fired
'Nakedly retaliatory' actions for protected speech
Despite Chapman faculty's claims that he "helped incite a riot," and CU-Boulder faculty accusing Eastman of "solicit[ing] a seditious act," administrators at both the private Chapman and the public CU-Boulder have not gone that far.
Chapman President Daniele Struppa said it wasn't her role to decide if Eastman's actions were criminal or if he should be disbarred. CU-Boulder Chancellor Phil DiStefano called Eastman's "continued advocacy of conspiracy theories … repugnant" but noted he couldn't legally take "adverse action" against the professor.
Eastman would be gone in "a few months" anyway, because of his expiring contract, the president said.
CU-Boulder found a different way to practically get rid of the professor before his contract expired, however, canceling his two spring semester courses. It told The Denver Post that the College of Arts & Sciences "typically" requires undergraduate classes to have at least 15 students, and Eastman's were in single digits.
Eight days after that report, the university formalized this rationale in canceling Eastman's classes. It was "in accordance with college policy, due to lack of enrollment," Provost Russell Moore wrote Jan. 21. He also banned Eastman from further activities with the Benson Center because it was "likely to be disruptive to the campus and the Benson Center."
MORE: They keep trying to cancel this professor. He refuses to back down.
The Foundation for Individual Rights in Education told President DiStefano (left) it could find no such policy on this requirement, and had issued a public records request to find it.
The College of Arts and Sciences' course database reveals many courses with fewer than 15 students enrolled, and an orientation web page touts that CU-Boulder courses may enroll as few as "10-20 students," the group's letter notes.
The university's criticism of Eastman suggests that his "speech was a substantial or motivating factor" for its "nakedly retaliatory" actions against him, rather than CU-Boulder consistently applying any enrollment policy.
"The First Amendment is clear: A public university cannot cancel a professor's courses, withdraw his role in organizing campus discussions, and preemptively decline to renew his contract because of public anger over his extramural political expression," Adam Steinbaugh, director of FIRE's Individual Rights Defense Program, told the president.
Threatened with 'insubordination' if he didn't go quietly
The civil liberties group explained in depth why Eastman's comments at the rally – and their timing, before President Trump's speech – cannot constitute "unlawful incitement' to violence.
Administrators publicly recognized this as well, Steinbaugh noted: Jacobson, director of the center, condemned Eastman's "radical claims" but ultimately defended his right to speak "unpopular opinions."
Subsequent statements by university administrators contradict its "pretextual" claim about low enrollment in Eastman classes, he said.
On Jan. 10, in response to growing public criticism of the university, Jacobson sent the professor an email blaming Eastman for causing "irreparable damage to the Center, which threatens its future viability and the continued existence of the" visiting scholar post.
MORE: Constitutional scholar warns about mail-in voting
He cited multiple hours of meetings with "antagonistic administrators and faculty" and the "terrible press due to your behavior" as a visiting professor, saying Jacobson (right) had been warned that "it will get substantially worse."
As a result, Jacobson stripped Eastman of his position in everything but name, including the use of campus resources for any Benson Center purpose. If he violated any of Jacobson's directives, Eastman would be charged with "insubordination."
The university's speech-based retaliation is also illustrated by a law school email to its constituents about Eastman, who was never law faculty, Steinbaugh noted. Dean S. James Anaya called Eastman an "embarrassment to our profession" and promised he would not teach in the law school. (Eastman was formerly dean of Chapman's law school.)
"The university's rationales for punishing professor Eastman are fundamentally at odds with the basic principles of free expression," both constitutionally and in its own university policies, Steinbaugh told DiStefano:
If donor interests, public anger, reputation, or administrators' ire are sufficient to grant the institution the authority to punish members of its faculty, then only speech popular with donors, the public, and administrators is protected. This inverts the purpose of the First Amendment.
The university has not responded to FIRE's Feb. 3 letter, but the organization is "hopeful that CU Boulder will work quickly to defend Professor Eastman's rights," a FIRE spokesperson wrote in an email to The Fix.
Criticized Eastman but silent about prof who wished for Trump's death
The Daily Camera obtained emails from University of Colorado regents in a public records request, which show political considerations in the Eastman controversy.
Regent Chance Hill cited the hypocrisy of the University of Colorado system's criticizing conservative comments but not "baseless, inflammatory" comments from the left. Law professor Paul Campos, for example, publicly wished for President Trump's death following his COVID-19 treatment.
Hill threatened to not extend the contract of Mark Kennedy, system president, if he did not "ensure that CU presents a fairer, more balanced perspective to the public on such topics that are cultural and inherently political in nature."
Vice Chair Lesley Smith and Regent Jack Kroll separately told constituents they'd like to get rid of Eastman but the university didn't have the budget during the COVID-19 pandemic to risk a lawsuit from him.
"Any employment move would likely result in years of litigation that would cost taxpayers millions and only further extend this sorry chapter in our history," Kroll wrote.
Smith warned that Eastman will likely sue "if we try to push him out. Unfortunately, due to the huge hit to our budget from the pandemic, the expense of a lawsuit is not a great option."
Eastman told the newspaper that the regents were "right to be concerned about a possible lawsuit."
MORE: College president warns not to compare Capitol riot to BLM protests
IMAGES: C-SPAN, University of Colorado-Boulder
Like The College Fix on Facebook / Follow us on Twitter