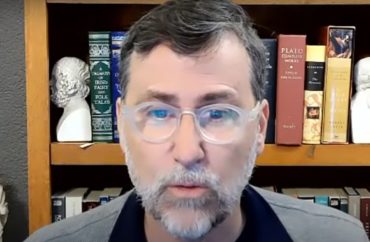 Started to counteract a Christian group
A Catholic high school teacher and theologian warned that "After School Satan" groups have started in a handful of elementary schools and gave advice on how to stop them. A priest also said parents need to fast and pray to combat the spiritual attacks.
"Their plan is to say, under the guise of religious freedom, that wherever there is a Good News Club, they have to have an After School Satan Club," Steven Rummelsburg (right) told The College Fix via a phone interview. Rummelsburg is a regular commentator on Catholic and culture issues and also teaches at John Adams Academy in California.
The Satanic groups started in July 2016 with the explicit purpose of counteracting the Evangelical Good News Clubs. A New York chapter of the Bible study group won a Supreme Court case in 2001 that affirmed its right to operate in Milford Central School.
"The Satanic Temple does not advocate for religion in schools. However, once religion invades schools, as The Good News Clubs have, The Satanic Temple will fight to ensure that plurality and true religious liberty are respected," the Satanists' website says. The group does not believe in the actual existence of Satan.
The clubs are run and organized by volunteers from the Satanic Temple who use a uniform syllabus as a curriculum for their teachings. They perform activities such as games and projects to teach the children what can be known about the universe from an anti-religious viewpoint.
While there are only nine clubs in existence right now, including in cities like Los Angeles, Atlanta and Salt Lake City, Rummelsburg said he believed that more will form soon.
MORE: Student Satanist group forms at Minnesota university
"Unfortunately, The Satanic Temple is growing in population. As it grows, the number of these centers will also increase," Rummelsburg said.
"The scientific worldview they tout is really just material reductionism," Rummelsburg said.
"They say they are non-superstitious– this is a rejection of all immaterial and transcendental notions," the teacher said. "By saying that Satan does not exist, they are trying to demythologize it and make it seem like a stupid, superstitious belief."
"The real problem is that when you participate in secular culture and buy into the narcissism and self-worship the world tells you to get involved in, it does not matter if you join a Satanic club or not. You have already bought into the lie," Rummelsburg said. "To combat this, our job is to preach Christ crucified. Put on the armor of God, take up your cross, and follow Jesus."
Catholic priest says parents should organize to stop the groups
"Parents need to protest these kinds of groups by, first, identifying what they actually are," Daniel Klimek, a Franciscan friar and theology professor, told The College Fix via email.
The Franciscan University of Steubenville professor said the Satan clubs are "discriminatory and anti-religious hate groups that intentionally attack the sacred beliefs of millions of people, whether Christian, Jewish, or Muslim."
He said parents should combat the "hate" of these groups by "using every nonviolent means they can to protest such programs." He suggested "writing media pieces" to expose the "anti-religious discrimination." Parents should be prepared to withdraw their kids from the schools.
He urged prayer and fasting to convert the members of the club:
Parents also need to realize that they are involved in a spiritual battle and, thus, in addition to these practical means of protest, they need to pray and fast against such programs, for the protection of their children, and for the conversion of these Satanists, as well as the school administrators who are considering these programs.
"Like their parents, students need to acknowledge that such groups mock and discriminate
against their cherished religious beliefs, and therefore are hate groups," the priest said. "God is much stronger than the devil, and he hears us when we turn to Him."
MORE: Students launch Satanic club at NC State
IMAGE: Tim Gordon/YouTube
Like The College Fix on Facebook / Follow us on Twitter