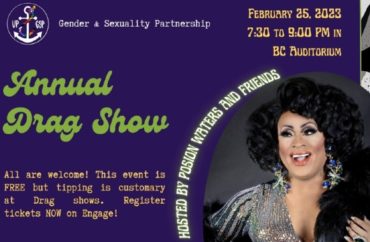 Club leaders previously thanked the university for its support
In the Christian tradition, Lent is a time of prayer, fasting and doing penance in order to prepare oneself to celebrate Easter and it begins today with Ash Wednesday
But instead of working to grow in virtue and eradicate vice, the LGBT student club at the University of Portland plans instead to kick off Lent with its annual drag show this Saturday, Feb. 25.
Despite being a Catholic university, the school appears to fully support the Gender & Sexuality Partnership club's drag event.
"Be sure to RSVP on engage, so keep a lookout for an engage link on our Instagram and email next week!" the group posted on the official university organization page. "The drag show will be hosted by Poison Waters and her amazing friends. Everyone is welcome, and the event is FREE; however, it is customary to tip at a drag show because drag queens make the most of their money through tips."
"Poison Waters" also goes by the name Kevin Cook and runs a kids camp.
Some of the students involved in last year's drag show understand that what they are doing conflicts with the Catholic Church's views on sexuality and crossdressing.
"Because of Catholic stances on LGBTQ+, gender, and things like that, the collaboration is still building trust," faculty advisor Erin Currie said last year, according to the campus newspaper.
She said she was "tentatively positive" about the relationship between the administration and the group surrounding the event.
MORE: FBI fears faithful Catholics – these colleges are cells of orthodoxy
Student Carter Wolff shared astonishment at the event's approval by the administration. "I see it as a way to be what we thought wasn't allowed on campus, very proudly, at a school sponsored event," Wolff told The Beacon last year.
It is no surprise that the LGBT agenda is on full display at the University of Portland. After all, LGBT activists here once cried because a Catholic priest held conservative views and questioned the appropriateness of the rainbow flag in a residence hall. One former residence hall staffer complained that Dan Parrish, a Catholic priest, used his "theological beliefs" to inform his views on flying a pro-homosexual flag.
The university's commitment to placing secular ideology over its Catholic faith has not helped it however.
The university is currently facing a $13.4 million budget deficit due to lower enrollment, which has led to 45 jobs being slashed, as The College Fix reported in December 2022.
"One of the long term goals is to bring that room and board revenue back up," a campus official said at the time.
LGBT students and university officials who endorse drag shows might want themselves to think about what their "long term goals" are and if that includes rejecting immoral behavior and growing in their faith.
MORE: Methodist university removes LGBT flags from campus
IMAGE: Gender and Sexuality Partnership/Instagram
Like The College Fix on Facebook / Follow us on Twitter