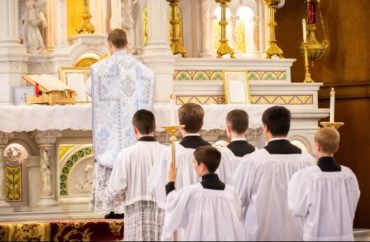 Jesuit universities need not worry – but these colleges should
Apparently hoping to draw further congressional attention to its politicization, the Federal Bureau of Investigation is reportedly warning of "Radical Traditionalist Catholics" who might become white supremacists.
An FBI field office in Richmond, Virginia compiled its intelligence bulletin using the discredited and professional grifting organization the Southern Poverty Law Center. It also cited an Atlantic article that referred to the rosary, a set of prayer beads, as a "weapon."
These dangerous individuals, according to the FBI, are pro-life and "anti-LGBTQ," which presumably means they hold to important Catholic beliefs, such as the sanctity of life and that marriage is between a man and a woman. So "radical traditionalist' might just mean faithful Catholics. Though the FBI distanced itself from the memo after media coverage, an attorney with the bureau still had officially signed off on the product created by an analyst, meaning some there still have concerns.
While nominally Catholic colleges such as DePaul University and Loyola University Chicago will raise no red flags for the FBI, there are a few that might trigger concern, given their actual commitment to the truth and orthodoxy.
For example, Benedictine College in Kansas has an active pro-life group. The college also deliberately wages a war against pornography, with specific groups and resources available to help students who may struggle with it.
Franciscan University of Steubenville is another one that might raise some flags. It has solid, orthodox professors there such as Scott Hahn and the university offers both the new, post-Vatican II Mass and the traditional Latin Mass.
It also has access to thousands of recruits Catholic teenagers through its summer Steubenville conferences where youth groups gather to discuss "radical traditionalist" topics like prayer and faith. The school also hosted Jordan Peterson and has an initiative that helps students who struggle with same-sex attractions to live a life of chastity. University leadership also has firmly rejected gender ideology.
MORE: Penn State Latin Mass group finds comfort and thrives during difficult times
Curiously, the Richmond field office missed another hotbed of orthodoxy not too far from the commonwealth's capital – Christendom College. Students at the Front Royal, Virginia Catholic college  are heavily involved in pro-life activism and public prayer.
It even canceled classes so students could attend the March for Life. Students and local pro-lifers hold an annual prayer event where they peacefully surround an abortion facility and pray.
But where do these Catholics learn about why it is important to fight against abortion or how to establish a good prayer life? The priests.
And that is why Thomas Aquinas College might also end up on the FBI's list. This small Catholic college in California and Massachusetts has a strong track record of producing priests and religious brothers and sisters.
A university spokesman previously told The Fix that around 10 percent of graduates enter the priesthood or religious life.
With about 100 alumni per year, that's 10 or so new recruits every year that might be learning about radically traditional topics such as how to avoid sin, the importance of fasting and the history of the Catholic Church.
Then, and this may further concern the FBI, those people go out into the general public and try to teach and counsel others. Some, like the Dominican religious order, create groups where students read classic works by Catholics and non-Catholic philosophers and then debate and discuss.
And we know that debating and sharing political opinions in public is one thing this administration and the Department of Justice won't tolerate.
MORE: More than 400 people attend pre-dawn Latin Mass
IMAGE: Matt Lamb
Like The College Fix on Facebook / Follow us on Twitter