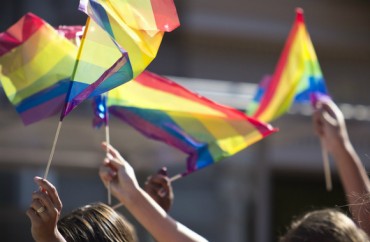 Students also upset that university hired a Christian who supports Biblical definition of marriage
Administrators at Seattle Pacific University recently removed LGBT flags put up by students in apparent protest of the institution's Christian beliefs on sexuality.
"Early Friday morning, students placed hundreds of pride flags across campus," Inside Higher Ed reported. "Student organizers said the move was to protest an email from administrators to the campus community urging the removal of 'messages or signage that are divisive, polarizing, or show dissention,'" the publication reported, based on emails it had reviewed.
Inside Higher Ed noted that the university had stuck to its religious beliefs, which include that definition of marriage as between one man and one woman, despite outside attempts to get it to change. Those efforts include a financial punishment of its credit rating and an investigation by the Washington attorney general.
Students are also upset that the Methodist university hired someone who supports the Biblical definition of marriage, instead of someone more amenable to the liberal sexual agenda.
Inside Higher Ed reported:
The move came a day after SPU announced it had hired Deana Porterfield away from Roberts Wesleyan University, another Free Methodist college, to serve as its president. Students have expressed skepticism about Porterfield, given that RWU defines marriage as "between one man and one woman," which is similar to SPU's statement on human sexuality.
Seattle Pacific's decision to stick to its principles when it comes to hiring and its approach to LGBT issues sets it apart from other Christian universities.
Catholic universities including Villanova University and Loyola University-Chicago fully support the LGBT agenda, for example.
Villanova officials even released a "gender inclusive" guide that suggested pronouns and other steps mean to tell a man that he is a woman and vice versa. The Catholic Church opposes the idea that gender is changeable yet Villanova called the gender-bending support guide "fundamental" to its "mission."
These universities, and others like them, could learn from Seattle Pacific.
MORE: London School of Economics cancels words 'Lent' and 'Easter'
IMAGE: Thisisbossi/Flickr
Like The College Fix on Facebook / Follow us on Twitter