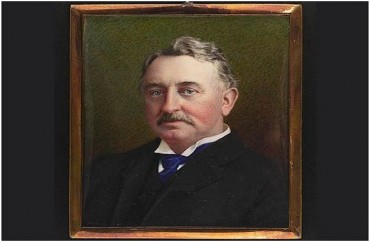 A history professorship named after Cecil Rhodes — the namesake of the prestigious Rhodes Scholarship — has been canceled by King's College London over imperialism and racism concerns.
Richard Drayton, Rhodes Professor of Imperial History at King's College London, led the charge to scrap the name of his own professorship, according to UK reports.
The Independent reported Drayton had argued that professorship "should be changed and that the university should make reparations to the Caribbean and African diaspora."
"Such moves would 'begin a process of repair – repair of the world, repair of ourselves – to make a future world in which everyone can live as equals,'" Drayton reportedly wrote in a letter to administrators.
"In response, King's College said that because the Professorship was not connected to any funding from the Rhodes Trust, reference to the British imperialist could be dropped," the Independent reported.
The Daily Mail billed the move as "a victory by the Rhodes Must Fall campaign, which wants to see the statue of Rhodes taken down from Oriel College, Oxford. Oxford has agreed to scrap its Rhodes Professorship of Race Relations but the move has yet to be passed by the Privy Council."
The Times described Drayton as a "prominent sympathizer with the Rhodes Must Fall campaign which seeks to topple statues of the colonialist, mining magnate and educational benefactor."
"Rhodes' legacy has played a role in Drayton's academic career … he studied at Harvard and Yale before winning the Commonwealth Caribbean Rhodes Scholarship."
In 2015, Oxford removed a commemorative plaque of Rhodes because he was an "ardent advocate of colonialism."
HuffPost Black Voices reported at the time:
Rhodes was a mining magnate and ardent advocate of colonialism who founded the colonial territory of "Rhodesia," now Zimbabwe and Zambia. He was a student at Oriel College, Oxford between 1873 and 1881, and left 2 percent of his income to the College upon his death in 1902. He also endowed Oxford with the prestigious Rhodes Scholarship, which has allowed nearly 8,000 international students to study at the University.
In 2016, Oxford University promised it would not remove a statue of Rhodes as demanded by student activists who argued the "Victorian imperialist was a racist" because alumni vowed to pull donations.
MORE: Black Rhodes Scholar attacks white student holding camera, blames white 'colonial entitlement'
IMAGE: Biblio Archives Library Archives / Flickr
Like The College Fix on Facebook / Follow us on Twitter