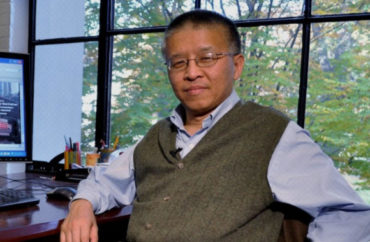 A Massachusetts Institute of Technology professor was arrested and charged Thursday with conducting secret work for the Chinese government while also collecting research funds from the federal government.
Gang Chen, 56, an engineering professor specializing in nanotechnology, was charged with accepting U.S. taxpayer research funds while simultaneously working for the People's Republic of China.
"It is not illegal to collaborate with foreign researchers. It is illegal to lie about it," Massachusetts U.S. Attorney Andrew Lelling told reporters following the arrest.
Since approximately 2013, Chen's research at MIT has been funded by more than $19 million in grants awarded by various U.S. federal agencies.
But according to the U.S. Department of Justice, Chen accepted a position in 2012 designed to "promote the PRC's technological and scientific development by providing advice and expertise – sometimes directly to PRC government officials – and often in exchange for financial compensation."
DOJ alleges that between 2017 and 2019, Chen obtained a U.S. Department of Energy (DOE) grant in order to fund a portion of his research at MIT, while failing to disclose his relationship with the Chinese government.
Further, Chen failed to disclose that he kept $10,000 in a bank account in China.
The DOJ was able to obtain an email from Chen in which he discussed his plan to promote China's economic and scientific development. The email read:
1. promote chinese collaboration

2. China places innovation (scientific) as key and core not fashion [sic], but because

we must do it, from historic trend as well from our stage

3. our economy is no. 2, but from technology (structure of economy) and human

resources, we are far from no. 2

4. we are paying big price in environment, not sustainable, as well as from labor cost

5. environment protection and development in same place, environment even higher, clean energy if higher cost, reduce steel, cement. We must count on technology, cannot grow as past

6. communist 18th convention, scientific innovation placed at core. We realize not just independent innovation; but also internationalize to plan for and facilitate. Closed door innovation does not work; innovation as driving force
Chen is a naturalized U.S. citizen who was born in China. He is director of the MIT Pappalardo Micro/Nano Engineering Laboratory and Director of the Solid-State Solar Thermal Energy Conversion Center.
Chen's arrest follows other recent examples of a researcher surreptitiously working with Chinese government. In August 2020, UCLA researcher Guan Lei was arrested for destroying a hard drive during an FBI investigation into Chinese theft of sensitive software and technical data. In May, former Ohio State University rheumatology professor and researcher Song Guo Zheng was arrested while trying to flee the country with stolen laptops and USB drives.
In June of last year, Harvard University Chemistry Professor Charles Lieber was indicted for making false statements about his involvement with a talent recruitment program sponsored by the Chinese government.
If convicted of the charges of wire fraud, making false statements, and failing to file a foreign bank account report, Chen could face up to 30 years in prison and $750,000 in fines.
MORE: Former Harvard-affiliated researcher ordered to leave country after attempt to smuggle cancer research to China
IMAGE: Massachusetts Institute of Technology
Like The College Fix on Facebook / Follow us on Twitter