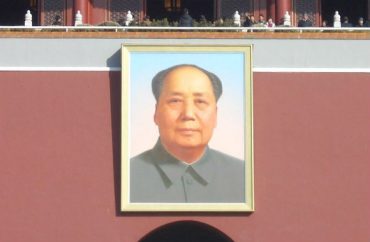 Harvard president was scheduled to meet with Xi Jinping
Not only does Harvard University discriminate against Asian-American applicants in admissions, but it puts the feelings of Asian tyrants over their political dissidents, if two dissidents' stories are to be believed.
A wide-ranging Harvard Crimson feature on the university's longstanding relationship to China opens with a bombshell accusation by dissident Teng Biao, who participated in the "Scholars at Risk" program on campus: A "powerful person" ordered him to cancel an event with fellow dissident Chen Guangcheng.
While Teng has refused to name the person in previous interviews about the 2015 series of events, the Crimson cited anonymous sources who identified the "powerful person": William Alford, vice dean for international legal studies, who has met with various Chinese and Taiwanese presidents and spoken at the Central Party School of the Chinese Communist Party.
Teng told the Crimson that the "powerful person" told him Feb. 11, 2015, to "cancel the talk" with Chen because Harvard President Drew Faust would be coming back from Beijing the day they planned the hold the event. She would also be meeting with President Xi Jinping a few weeks before that, and holding an event with two dissidents so soon after would "embarrass" Harvard, the person allegedly told Teng.
Efforts to get around the person were fruitless:
The second phone call, on March 10, was a formal and final warning. The powerful person called Teng to his office and told him the event would embarrass the University and potentially threaten the continuation of collaborative programs and joint research with China. The administrator asked Teng to "postpone" the event, and Teng finally agreed.

"Postpone is a polite word," Teng recalls. "They never invited us to give a talk after that."

Chen Guangcheng puts it more bluntly. "What he meant was that it was going to be postponed indefinitely," he explains, through an interpreter. "It was just another way to cancel it completely."
Alford would only tell the Crimson that he "did ask" Teng to "schedule the event in question after our University President [Faust] had left Beijing."
MORE: Harvard, Yale under federal investigation for funding faux pas
Magazine writer Matteo Wong says that without further explanation from Alford, "it's difficult to know" what led Harvard to side with tyrants over dissidents:
Perhaps Alford or another Harvard administrator had direct contact with, or was contacted by, [People's Republic of China] leadership; perhaps a Harvard administrator decided on their own to preemptively censor the event. A meeting between the presidents of Harvard and the PRC may have provided unique potential for conflict; Teng Biao and Chen Guangcheng may be uniquely controversial figures.
Teng has accused other institutions of doing China's bidding, including the American Bar Association for refusing to publish his book on human rights in China, his wife's Chinese-owned company in the U.S. for firing her, and one of Harvard's Ivy League peers:
In November, 2019, Teng was to speak at Columbia University on a panel titled "Panopticism with Chinese Characteristics." The event was cancelled, purportedly for bureaucratic reasons, though the panellists [sic] believe Chinese Communist Party pressure was responsible. …

"Western institutions, think tanks, universities, they don't want to anger the Chinese government because they want to keep a good relationship with their Chinese counterparts," Teng says.

MORE: Education reformer running for Congress to stop socialism he grew up with
Indeed, China's wealth and power mean it now has the upper hand in many academic relationships. Harvard's ability to freely criticize Chinese policies depended on China needing Harvard more than the other way around, but now that has changed, Wong writes:
As China's economy and higher education system have developed, Harvard has continued building collaborative relationships, but perhaps out of necessity — many of the world's top academics, labs, and studies, not to mention funding, are now in China. And where China was once almost devoid of foreign scholars, interest in China is now ubiquitous: Harvard competes with top universities from across the world for access to Chinese talent and resources.
Commenting on the report, the Foundation for Individual Rights in Education said universities "fundamentally abandon their mission if they choose to censor political debate to appease a government with which they wish to establish or maintain ties":
And make no mistake: Moving back the date of an event to a more politically-convenient time isn't much better than canceling it outright.
Read the feature and FIRE's post.
MORE: Columbia cancels Teng's panel, denies it was politically motivated
IMAGE: Poco a poco/Wikimedia Commons
Like The College Fix on Facebook / Follow us on Twitter