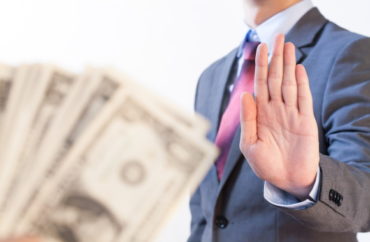 Nonprofit was approved for $130,000 to $180,000 in aid
The board of a nationwide Christian campus ministry recently voted against accepting some $130,000 to $180,000 in federal COVID relief aid for its nonprofit in what its president and CEO called a very difficult — but ultimately unanimous — decision.
"We need the money, as a nonprofit we want the money, we realize other less virtuous organizations are probably going to receive the money and utilize it for what we might see as non-virtuous ends, and we can do a lot of good with it," Corey Miller, president of Ratio Christi, told The College Fix in a telephone interview Wednesday.
But, he added, "we don't want to receive government funds with strings attached."
"While there is nothing obviously apparent that there are strings attached to this, it's always a possibility," Miller said. "For us to continue, if we lose the ability to doctrinally discriminate, we're done."
Ten-year-old Ratio Christi is an apologetics-evangelism organization with about 125 campus chapters, mostly at public universities. It aims to equip students and faculty with philosophical, scientific and historical reasons for following Jesus.
Miller said the group was eligible — and approved by its bank — for $130,000 to $180,000 in aid through the payroll protection plan under the CARES Act, for which small businesses as well as nonprofits are eligible. Expenses such as payroll, rent, utilities and other costs to keep the organization going are covered under the aid.
Ratio Christi has about 200 people on staff, between fulltime, part-time and volunteers, as well as a brick and mortar building it rents in West Lafayette, Indiana, according to Miller.
After the bank approved the request, the group's board began an intense, week-long debate on whether to pull the trigger and take it, he said.
Miller said there was an argument to be made to accept the money.
"We feel like our prosperity rights have been curtailed in transacting business, in the way our nonprofit raises funds," he said. "… We cannot get out there and meet with donors, which is vital when raising large amounts of money for a national nonprofit organization."
Miller looked at the 5th Amendment of the U.S. Constitution to bolster that argument. It states in part that no person shall have private property taken for public use without just compensation.
"We argued that maybe this could fall somewhere along the lines of the 5th Amendment on eminent domain — the government confiscates property and then compensates the owner whose property it took at what they consider to be a just and fair amount," Miller said. "We don't have property, our economic value is in connecting personally with donors."
In the end, Miller said, the board agreed the amendment is more about property rights than prosperity rights and decided against the argument.
But more importantly, he added, the board wanted to be free from any chance of the feds getting a foothold in the Ratio Christi operation.
"If the government comes in and it doesn't like our doctrinal statement, it thinks we are not inclusive in some way they deem fit, then you may have a religious liberty fight on your hands," Miller said. "Ultimately the board chose not to subject itself to possible compromise in losing its identity and religious liberties in the future."
He added the group strongly opposes debt, even if COVID relief is looked at by many as "free money" that would be forgiven.
"That was very tempting, because it was likely all or most of this quote-unquote loan would have been forgiven, but that money is not free," he said. "It has to be paid by someone, somewhere, sometime."
"The national debt is apparently already unsustainable," Miller added. "When we add to it about another five trillion dollars we jeopardize not only the stability of our organization, but the nation. We did not want to contribute to that consequence."
"The government is printing money it does not have. In general we do not think that is right. So even though the government's actions harmed us, we don't know that two wrongs make a right."
Having said that, he acknowledged turning down such a large sum of money was very difficult and will prompt cuts in programming and personnel. But Ratio Christi is not in jeopardy of being insolvent thanks to the establishment of savings for a rainy day, "and right now it's pouring," he said.
"We are constantly living at the margins between our donations and expenses," Miller said.
"This was an ethics decision for us," he said. "Our whole organization exists to defend and promote the truth of the Christian faith, and either we trust the Christian god for our livelihood or we do not."
There's also been a silver lining. Campus chapters moved their meetings online and several report attendance is up at these virtual meetings, Miller said.
"But in the fall if the government action of isolation inhibits herd immunity, then barring a vaccine, we may be facing all this again, and it's going to be very difficult to start new chapters," he said.
Editor's note: Corey Miller has contributed op-eds to The College Fix.
MORE: Defying DeVos and Trump, Notre Dame will accept $6 million in coronavirus aid
IMAGE: Twinster / Shutterstock
Like The College Fix on Facebook / Follow us on Twitter