UPDATED
Critic says it would 'put women and girls in harm's way'
Christian higher education and evangelical organizations are supporting legislation that would force secular entities to let men in women's private spaces, according to a Christian legal defense group.
The Council for Christian Colleges and Universities and the National Association of Evangelicals have formally approved so-called Fairness for All principles that would add sexual orientation and gender identity to federal nondiscrimination law.
Though the Christian groups claim the principles, better known as SOGI principles, are a compromise intended to protect their own religious freedom from worse threats, the Alliance Defending Freedom said Friday that putting them in legislation "would actually undermine" religious freedom.
Its Christian peers should recognize that such legislation would "put women and girls in harm's way," said Kristin Waggoner, senior vice president of the alliance's U.S. legal division.
She mentioned the alliance's legal fight against the city of Anchorage, Alaska, which is investigating a women's shelter under its SOGI law for sending a man who identifies as a woman to a hospital rather than letting him stay.
CCCU and NAE should consider whether they support principles that are being used to force the shelter to let gender-confused men "sleep just three feet away from victims of rape, sex trafficking, and domestic violence," Waggoner said.
The boards for the two Christian organizations "quietly" approved motions in support of SOGI principles over the past few months, World Magazine reported last week.
The CCCU shared the board vote with its member college presidents in August but didn't publicly announce it, while NAE unanimously approved the motion in October, according to a copy obtained by World.
NAE did not respond to calls or emails from The College Fix on why the organization supports the principles. Its social media since October has not mentioned the issue, which is also absent from the recent update to its public policy guide, For the Health of the Nation.
The CCCU insisted on having an off-the-record phone call with The Fix before it would comment on the record.
A spokesperson confirmed that its board agreed to the three principles from the NAE motion, but said it was "not meant to represent the specific positions of our individual campuses."
One of its main objectives for working with the government is "to secure and enhance the religious freedom for our member institutions," according to the CCCU statement. Its board "has agreed that they want us at the table for these important conversations, which are happening with or without us."
Outdated with Democratic control of the House?
The Christian organizations' interest in securing legislative protections for religious freedom and LGBT groups in a package deal goes back more than two years.
Christianity Today reported in December 2016 that the CCCU and NAE had met with more than 200 leaders in nine cities to discuss the Fairness for All principles, promoting an alternative to legislative efforts such a sweeping California antidiscrimination bill.
They cited the 2015 state law known as the "Utah Compromise." It added SOGI protections in housing and employment to Utah law that already prohibited discrimination based on race, sex and age, while exempting religious organizations and affiliates such as colleges. It didn't answer whether a private business owner could refuse service to gay people due to religious beliefs.
Fairness for All is based on the Utah Compromise, the only statewide SOGI law approved in the past seven years, according to World.
In his farewell address to the U.S. Senate, Utah's Orrin Hatch challenged senators to "find a compromise on this crucially important issue—a compromise that is true to our founding principles and that is fair to all Americans":
In my home state, we were able to strike such a balance with the historic Utah Compromise, a bipartisan anti-discrimination law that both strengthened religious freedoms and offered special protections to the LGBTQ community. No doubt we can replicate that same success on a federal level.
Our politicians & the press will be hearing from the cynics and the naysayers who want us to view fellow Americans w/ suspicion & contempt. They need to hear from what I believe is the vast majority who want everyone to have a place in the American family. I hope you'll join us.

— Michael Wear (@MichaelRWear) December 13, 2018
The NAE motion, approved by its executive committee Oct. 2, calls on Congress to consider legislation in line with principles that recognize "sexual relations be reserved for the marriage of one man and one woman."
It says the committee supports "long-standing civil rights laws and First Amendment guarantees" protecting the free exercise of religion, and that no one should face "unjust discrimination on the basis of sex, sexual orientation, or gender identity."
Fairness for All legislation would "secure basic human rights for the LGBT community at the national level in exchange for strong and perpetual protections for religious freedom," according to a "background overview" of the principles written by Houghton College President Shirley Mullen, a member of the committee. It's intended to lend support to CCCU's efforts.
Christian colleges must act now, considering the past five years of threats against their ability to accept state financial aid, hire faculty and staff "based on considerations of faith," and even claim Title IX exemptions in sports, she wrote: "[T]his trend shows every sign of continuing."
The timing of the motion's approval may have made it outdated before NAE members could act on its recommendations.
MORE: Same-sex marriage threatens to tear apart CCCU
"[T]here is likely to be more sympathy for protecting religious freedom in a Republican Congress than in a Democratic Congress," Mullen (left) wrote, a month before Democrats won back the House in midterms.
Religious institutions face a growing threat from the Equality Act, which has "gained increasing favor each time it has been reintroduced" and is "heavily funded by a range of lobbying interests," she said. The House and Senate versions of the bill, introduced by Democrats in May 2017, have 199 and 47 cosponsors.
NAE's support of CCCU's efforts is of "strategic importance" to evangelicals, and Fairness for All legislation is the "best opportunity to create … a space for the grace and power of the gospel to be at work," Mullen wrote.
CCCU laid out the case for Fairness for All in its magazine nearly two years ago, emphasizing it would protect LGBT people "in the basic areas of the public space" such as stores and restaurants, while codifying "the full scope" of religious protections in the Constitution.
"One thing has become increasingly apparent over the past few years: When LGBTQ protections go up against religious freedom, LGBTQ protections usually win in both the court of law and the court of public opinion," with Utah the only exception, Vice President for Government and External Relations Shapri LoMaglio wrote. She warned religious colleges that SOGI is already codified in state, city or county law for about three in five Americans.
Fairness for All would protect the religious beliefs of employees in secular organizations unless they put an "unreasonable burden on the employer," and the rights of business owners to not express messages that violate their political or religious beliefs, according to LoMaglio.
"The CCCU, alongside other religious groups, is exploring the Fairness for All approach because we think it is an approach that uses a scalpel, not an axe," and could "preserve more freedom for more Americans into the future," she wrote.
The purpose of the Fairness for All principles should not be overstated, according to the president of a CCCU member.
Shortly after the 2016 election, which gave Republicans unified government, Gordon-Conwell Theological Seminary's Dennis Hollinger told The Gospel Coalition that Fairness for All "does not compromise Christian values."
The principles are "a strategy to ensure religious liberty, not a statement about certain practices in our society," he said.
Why would Christians want to 'empower an already powerful special-interest lobby'?
While Christian colleges and evangelicals may think they are protecting religious freedom with compromise principles, they are throwing their peers in the secular world under the bus, according to other religious groups.
Waggoner of the Alliance Defending Freedom warned that Fairness for All, despite not being formalized into legislation, was just "a SOGI law under different branding."
It would let the government "force people who willingly serve everyone to promote messages and participate in events that conflict with their faith or convictions."
One of the most prominent Christian professors in America, Princeton University's Robert George (below), has also denounced SOGI laws as an "impossible and unsustainable 'compromise.'"
MORE: Muslim, Jewish leaders protest Calif. bill that punishes religious schools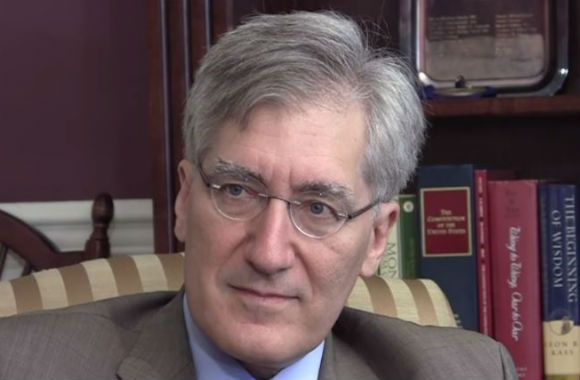 In a 2016 article for the Witherspoon Institute's journal Public Discourse, he and journal founder Ryan Anderson wrote that Indiana's proposed SOGI laws "would only increase cultural tensions, further empower an already powerful special-interest lobby, and impose unjustly on Hoosiers of many different faiths and all walks of life."
They do not protect "fairness for all" as labeled, because they still impose "new, harmful regulations" on the vast majority of businesses, and they create a slippery slope for the "erosion" of their exemptions, the authors wrote.
SOGI laws protect characteristics that are not "immutable," making them an odd fit with civil rights laws, Peter Sprigg of the Family Research Council wrote in an issue brief.
"While sexual attractions may be involuntary, neither homosexual conduct nor transgender behavior meets any of the other criteria," the senior fellow for policy studies wrote. The laws also could force profit-making religious companies such as Christian bookstores to "violate their moral and religious convictions."
They should be "opposed by anyone who believes in freedom of speech, freedom of association, freedom of conscience and religion, and a free market economy," Spring wrote.
While opponents have largely advocated blocking SOGI proposals, a Canadian lawyer allied with the Alliance Defending Freedom's international arm has said legislation is the answer.
In the wake of the Supreme Court of Canada's summer ruling that it was legal to reject the accreditation of a Christian law school that required students to observe biblical teaching on sexuality, Gerald Chipeur said people of faith "will need to turn to their legislators to protect freedom of religion."
CORRECTION: The original article misspelled the surname of the Family Research Council senior fellow. It is spelled Sprigg. The article has been amended.
MORE: The latest argument for Christian higher ed: the economy
IMAGES: Erin Alexis Randolph/Shutterstock, Houghton College
Like The College Fix on Facebook / Follow us on Twitter