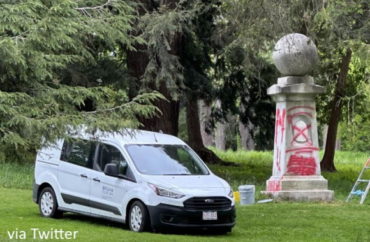 Monument vandalized twice in two weeks with satanic wording
A monument at Williams College erected to honor Christian missionaries and a place where current Christian students often gather to pray was recently vandalized with the words "Pagan Rule," "Blood," "Ouch" and "Hail Satan" spray painted in red, according to the university's president.
President Maud Mandel wrote in a memo to the campus community that the May 13 incident targeting the Haystack Monument comes as officials review it within the framework of the school's "institutional history."
"We expect those discussions to continue in the next academic year. Meanwhile, our colleagues in the Chaplains' Office … are available to talk with anyone concerned about the impact of this incident on themselves or our community," the May 15 memo stated.
Five days after Mandel's memo was circulated, the monument was hit again with more graffiti, the Williams Record student newspaper reported.
"This time the slogans were 'Hell is hot,' 'Shame on you,' and 'Ouch' as well as an obscenity," Mandel wrote in a second memo to the campus community May 21.
"I have asked Campus Safety Services (CSS) to increase our patrols of the area, effective immediately," she wrote, adding that given "that the Monument memorializes the Christian missionary movement, some people may experience these incidents as attacks on your religion or you personally."
"You belong here, and I will work for your and everyone's right to a safe community," Mandel wrote.
Erected in 1867, the 12-foot tall marble monument honors former students who "conceived of the idea to found an American missionary movement focused on spreading Christianity worldwide," the university's website stated.
The monument is a "pilgrimage point for students of Christian evangelism," John Drew, a former professor at Williams, wrote on his Williams Liberty blog.
"Personally, I remember standing beside the Haystack Monument and being surprised by its emotional power," Drew added. "It is amazing to think of all the good that was done by the young men who, on that spot, made a resolution to bring the benefits of Christianity to individuals living far beyond the boundaries of their own country."
"The monument is a reminder of the great things that can happen when a small group of people commits to a great project."
At the Haystack Monument in Williamstown MA where the American missionary movement began, 45 people on their knees prayed for revival among the youth. So far two have responded to the call. Thank you Jesus! pic.twitter.com/IihsgrlLhO

— Javier Chavez, PhD (@DrJavierChavez) July 21, 2022
But controversy over the monument dates back to at least 2016, when a committee at Williams College charged with reviewing historic works of art for their appropriateness to modern times reviewed it as part of its scope of work.
Kevin Murphy, senior curator of American art at Williams College Museum of Art, told The College Fix in 2016 that the Haystack Monument denotes where four Williams students decided to establish what became the American Board of Commissioners for Foreign Missions.
"At the time, Williams had a strong emphasis on Christianity and it was common for graduates to become ministers," Murphy had said. "Now we are an institution with students and faculty from lots of different faiths or no religious belief at all, and no longer have mandatory chapel attendance."
The Williams Record reported that in 2018, "mud was smeared onto the sides of the monument, and three concentric half-circles were carved into the ground between the monument and the benches that surround it. The perpetrators were never identified."
MORE: Former Williams College professor speaks out: Campus hostile toward conservatives for decades
IMAGE: Twitter screenshot
Like The College Fix on Facebook / Follow us on Twitter