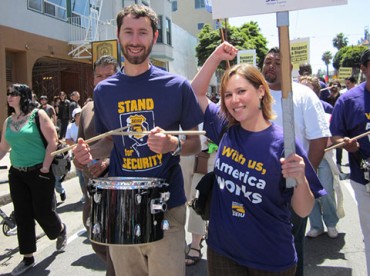 Wife threatened to call the cops before organizers backed off
Adjunct faculty at Washington University in St. Louis voted narrowly to unionize this month, in a campaign marked by accusations of union intimidation and administration pressure tactics.
Only about two-thirds of 404 eligible adjuncts voted on whether to join the Service Employees International Union, with supporters winning by a 138-111 margin, not including 18 contested ballots, Provost Holden Thorp told KSDK-TV.
Though both sides agreed to refrain from pressuring faculty one way or the other, there's evidence neither stuck to the pledge.
'Outrageous and unprofessional' conduct
SEIU was accused of harassing adjuncts at home and generally riding roughshod over them.
Mark Manteuffel, a biology instructor, told St. Louis Public Radio that union representatives showed up at his house when he wasn't home and were "very pushy and rude" toward his wife.
They asked her for his cellphone number without introducing themselves, and came back again when he wasn't home, Manteuffel said: "And they kind of huffed and puffed and said again that they would show up," until his wife threatened to call the cops.
Manteuffel added that the union showed "outrageous and unprofessional" conduct toward adjuncts by giving them only a day's notice, "near the end of the semester, with all the grades that are due," for an informal discussion about unionization.
SEIU did not return requests for comment from The College Fix.
String of emails running through Christmas Eve
The administration tried to improperly sway professors against the union, critics said.
Throughout December, Provost Thorp sent emails to adjunct faculty explaining what the vote would and would not mean, in the school's view.
One message, for example, said that collective bargaining only meant "a union has the right to ask an employer for anything, and an employer has the right to say no to each of the things the union has asked for," according to St. Louis Public Radio.
Another, dated Dec. 22, told faculty members that "with collective bargaining comes uncertainty" and that "unions seek dues from those covered by the contracts they negotiate," asking whether joining a union would financially benefit them. Thorp even sent an email on Christmas Eve.
The school has since removed Web pages from Thorp's office with FAQs about the election process and "limitations of collective bargaining."
In an email to The Fix, the university argued that the neutrality agreement with SEIU had been upheld.
"We do believe the spirit and the letter of the agreement was followed," said Jill Friedman, vice chancellor for public affairs.
The neutrality agreement read in part, "The university will communicate with eligible faculty in an objective and informative way about topics such as collective bargaining and the election process," but agreed to not advocate for one position.
Additionally, SEIU "will not seek or encourage activism on campus (picketing, for example) regarding this campaign."
Tufts contract: Not representative of what to expect?
With the faculty vote to join the SEIU, the university and union will start working toward contract negotiations.
Friedman, the vice chancellor, said the university could not yet provide specifics on how unionization would change course loads or hiring. "It is impossible to speculate on implications of the successful unionization effort as any impact depends on the terms of a negotiated contract."
Tufts University's adjunct faculty contract, the first negotiated by SEIU's Adjunct Action project and finished this fall, has been held up as a model for what others can expect.
At Tufts, where adjuncts joined SEIU more than a year ago, some departments saw pay increases up to 40 percent as well as preference in hiring for full-time positions, Inside Higher Ed reported.
Tufts adjuncts, however, "started off in a better position" than even other adjuncts in the Boston area, religion instructor Elizabeth Lemons told Inside Higher Ed: Those teaching three or more courses a semester already got health care and other benefits.
Other schools whose adjuncts have voted to join SEIU this month include St. Mary's College and Dominican University in California, the Los Angeles Times reported. They are both Catholic institutions whose anti-abortion teaching conflicts with the SEIU's advocacy for abortion rights.
The Fix reported last month that the St. Mary's administration seemed to be cooperating fully with union organizers, despite attempts by outside activists to demonize the administration.
College Fix reporter Matt Lamb is a student at Loyola University-Chicago.
Like The College Fix on Facebook / Follow us on Twitter
IMAGE: SEIU