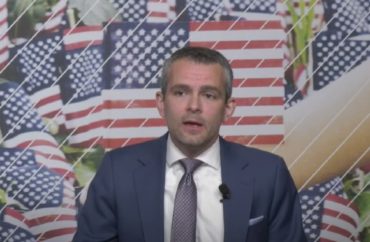 Anderson's lecture will be on the topic of 'confronting transgender ideology'
Gettysburg College, a private liberal arts college in Philadelphia, scheduled an "LGBTQ Signs of Solidarity" event to take place just hours before a scheduled appearance by Ryan Anderson on October 18.
Anderson is president of the Ethics and Public Policy Center and author of several books, including "When Harry Became Sally: Responding to the Transgender Moment" a critique of transgender ideology. He is a Young America's Foundation speaker.
"We will be making signs for solidarity, identity flag buttons and pronoun buttons, while having a discussion about the importance of solidarity for LGBTQ+ folks," according to the official Gettysburg event website. YAF first reported the protest, organized by the campus Gender and Sexuality Resource Center, on October 3.
"We originally had Dr. Anderson on the calendar to speak on September 25. Days after we booked the lecture, we saw this sign-making event appear on the calendar. When we moved the lecture to October 18 due to a scheduling conflict, the college moved their event, too," John Riccardi, chairman of the campus Young Americans for Freedom, said in a statement on the national organization's website.
Anderson's lecture at Gettysburg "will be on the topic of confronting transgender ideology," YAF reported.
MORE: Wisconsin university officials help plan Matt Walsh protest
The lecture "has faced fierce opposition for more than six months," YAF reported. "Last spring, YAF exposed footage from a Gettysburg Student Government Association meeting, in which student leaders voted against providing any funding for the event."
At the vote in March, "Social Affinity Group leader EJ Gill asked his peers to weigh 'discourse' against 'keeping our trans and LGBTQ students and peers safe in this community,' The College Fix reported on March 25.
"[Gill] said Anderson's book 'invalidates transgenders.' He said Anderson would 'spew hate' based on his stance that transgenderism or gender dysphoria are mental illnesses."
MORE: Red states fund pediatric transgender procedures at public universities
IMAGE: YAF/YouTube
Like The College Fix on Facebook / Follow us on Twitter