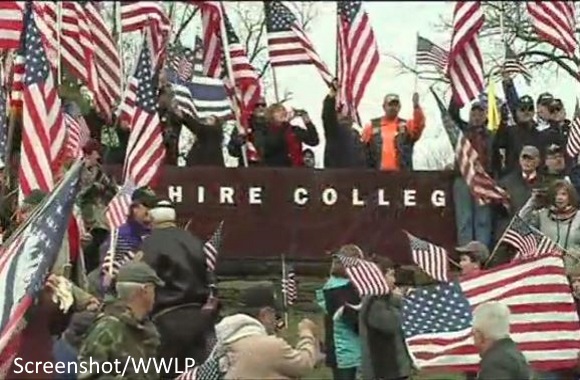 Too few students interested in no majors, no grades, no standards
You may remember Hampshire College for its flag-related controversies around the 2016 election.
It flew the American flag at half-staff after Donald Trump's surprise victory, which wasn't enough for an arsonist who then set it on fire. At that point the private college removed all flags, so it could "instead focus our efforts on addressing racist, misogynistic, Islamophobic, anti-immigrant, anti-Semitic, and anti-LGBTQ rhetoric and behaviors."
Even when it flew the American flag again two weeks later, then-President Jonathan Lash defended its removal by calling the flag an impediment to "uninhibited expression of deeply held viewpoints."
Those deeply held viewpoints don't include support for gun rights, as 2nd Amendment activist Antonia Okafor learned when the college suddenly canceled her speech, citing the sponsor's failure to disclose she might provoke "intense debate."
An official told the sponsor "we deem it too controversial and we are receiving calls from students and staff and professors and they are upset about it."
Those students and staff and professors are becoming a rare commodity at Hampshire, the subject of a lengthy profile in The Chronicle of Higher Education. In fact, it's on the verge of financial collapse.
The hostility to the flag and constitutional rights are not exactly rare at private colleges, but Hampshire doesn't have much else going for it.
MORE: University bans American flag to combat 'hate-based violence'
That's why it's looking for a merger partner and decided to not admit a "full entering class" this fall, citing potential trouble with meeting accreditation standards on "financial capacity to graduate its entering class."
Heavily dependent on tuition, room and board payments, with a small restricted endowment, Hampshire has long struggled to enroll enough students to cover its costs, sometimes lowering its standards to boost admissions:
In the early 2010s, fall enrollment climbed to around 1,500 students for several years, which was good for the bottom line, but carried hidden costs. Some members of the new classes needed more support than did the typical Hampshire student, and the college was so short of beds that "students were doubling up in the lounges in the dorms," [incoming board chair A. Kim] Saal said. "Faculty weren't happy. Staff were unhappy."
When it pivoted back to higher selectivity, it still lost out because it couldn't afford the merit aid that Hampshire's rivals hand out to top applicants.
"As early as the late 1970s, the college cut pay for faculty and staff members, froze hiring, and dipped into its still-growing endowment to cover budget deficits," according to the Chronicle. It has about half the endowment size of the next-higher peer institution, Sarah Lawrence College.
Hampshire just announced it's laying off staff because of the smaller entering class this fall, on top of staff layoffs in 2016 and 2017 to cover budget deficits. It will have "another workforce reduction this semester" to be specified in April, it said cryptically. (The Chronicle said that refers to faculty.)
MORE: Removing American flag is 'what free speech looks like'
The college's distinctives are apparently not valued in a tight market: Its students follow "self-designed and self-driven educational paths with no majors or grades," and the college encourages "multidisciplinary ventures" that are a stretch, such as astronomy and poetry. It has never required SAT or ACT scores, and stopped considering any test scores submitted by applicants in 2014.
It never bothered to cultivate an alumni base, at least one wealthy enough to give back:
Hampshire's roll of distinguished alums is rich in actors (Lupita Nyong'o), musicians (hip-hop MC Mike Ladd), and other creative types ([filmmaker Ken] Burns), but features relatively few business moguls and financiers. Alumni boast that the college's do-it-yourself educational mission fosters an entrepreneurial spirit in its graduates, "but they're social entrepreneurs, not the entrepreneurs who end up on Wall Street," Saal said.
Since the flag debacle of 2016, the college has lost another 10 percent of its enrollment. The negative attention, Saal said, "changed the trajectory for our admissions from going up to continuing to go down."
MORE: Hampshire cancels gun rights speech; it might provoke 'intense debate'
MORE:  'We have to cancel this event because we deem it too controversial'
IMAGE: WWLP screenshot
Like The College Fix on Facebook / Follow us on Twitter