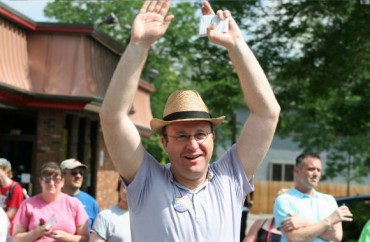 UPDATED
After he sparked a firestorm of criticism for saying that students accused of sexual assault who are innocent should still be expelled, Rep. Jared Polis, D-Colo., is slightly walking back his statement.
In an op-ed for the Daily Camera, whose editorial board savaged Polis for his statement, Polis explained that he made a "major gaffe" at the House Education and Workforce Committee hearing last week. (His mea culpa is posted on Medium too.)
During that exchange [with an advocate of due process] I went too far by implying that I support expelling innocent students from college campuses, which is something neither I nor other advocates of justice for survivors of sexual assault support. That is not what I meant to say and I apologize for my poor choice of words.
Polis's apology, however, can't even get the facts straight.
Joe Cohn of the Foundation for Individual Rights in Education, a witness at the hearing, was not "advocating for removing the authority of colleges to adjudicate sexual assault cases" when Polis made his outrageous statement, as Polis claims in the op-ed. Cohn was advocating that students be required to file police reports as a precondition for their colleges doing their own investigations, as the Safe Campus Act would require.
Explaining away his damning statement as an "errant sound bite," Polis doubled down on his original position, that Cohn's proposal is a "deeply dangerous idea that demonstrates a cursory and superficial understanding of the issue."
Deploying the dubious statistic that one in five college women "will be assaulted or raped by the time she graduates," Polis said the criminal justice system can't help rape victims:
For starters, rape survivors are unlikely to report cases to police, citing things like not thinking it's important enough, not wanting others to know, not having proof, fearing retaliation, and being uncertain about whether what happened constitutes assault . According to a recent Department of Justice study, only 20 percent of campus sexual assault survivors report the assault to police.
Polis misunderstands the options available to campus officials to assist accusing students even if police are investigating – with the requisite due process – at the same time:
Secondly, our criminal justice system moves slowly. Campus assault cases are designed to move efficiently so that survivors, as a basic matter of campus safety and to prevent additional trauma, don't have to cross paths with their assailant on campus for an extended period of time.
Explaining why Title IX purportedly requires schools to make their campuses totally free of "sexual violence," Polis might want to read criminal justice lawyer Scott Greenfield's excellent history of how Title IX became "rape law" without any court ever endorsing its use in simple allegations of rape.
Polis ends his argument with the bizarre claim that it's worse to be exonerated by the criminal justice system than found "responsible" in the college adjudication system, and it's even worse for the alleged victim:
For those of us also concerned with the rights of the accused, dragging their name through the newspaper as an accused rapist through a criminal justice process will haunt them forever, even if they are found not guilty. So too, it damages the survivor of sexual assault even more to have their name and crimes against them in public, especially because a popular defense strategy is to attack the victim.
Yet as The College Fix noted last week, there's never been a better time to be a victim in the public's mind.
CORRECTION: This article originally said that the Daily Camera is the University of Colorado-Boulder student newspaper. It is not. The article has been amended accordingly.
Like The College Fix on Facebook / Follow us on Twitter
IMAGE: Jeffrey Beall/Flickr