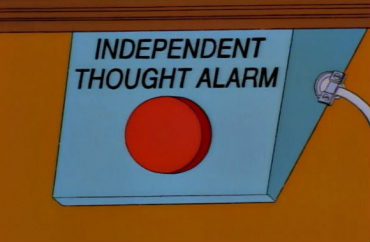 Activists say school was offended by group's motto 'Socialism Sucks'
A campus conservative activist group was recently denied official club status at Wartburg College because the group was "not in line with the values of" the school.
A proposed chapter of Turning Point USA was recently voted down by Wartburg's student government, with conservative activists claiming it was because the group used the phrase "socialism sucks" as its motto, The Washington Examiner reports.
"Despite the fact that a student government senate subcommittee specializing in campus clubs recommended the TPUSA chapter for approval, five senators voted to approve the group while 24 voted against it," The Examiner says.
"The vote against official recognition came days after TPUSA chapter leaders collaborated with the senate subcommittee to make various modifications to their chapter constitution in order to comply with campus rules."
Wartburg already has 180 groups on campus. I just can't imagine what is going to come after we approve or disapprove this group. Is someone going to not like the color of the room and start a group?" one student government member stated during the hearing.

After the Wartburg College student government vetoed forming the group, Ali McGough, a field director for the organization, reached out to Wartburg Dean of Students Daniel Kittle to find out their reasoning.

"If you could provide a little insight as to why we were denied after getting a recommendation from the subcommittee as well as what the appeal process is moving forward, that would great," McGough emailed.

"In short, I believe that the Student Senate body were concerned that the values of Turning Point, as evidenced by expressed tactics, were not in line with the values of Wartburg College," Kittle responded in part.

Wartburg student body President Naomi Alene took issue with activism sponsored by the national organization.

"One of the red flags for me was some of the tactics that the national chapter had, which is why they had to have an amendment to their constitution adding in that the would abide by Wartburg's mission before the national chapter's," Alene told KWWL, a local news station in Iowa.
As The Examiner reports, "Wartburg College is home to LGBTQIA Alliance, Students for Justice, multiple feminist groups, a Black Student Union, and the College Democrats. The only conservative presence is the Wartburg College Republicans."
MORE: Pro-life club denied participation in public university's social justice fair
IMAGE: Frinkiac.com
Like The College Fix on Facebook / Follow us on Twitter