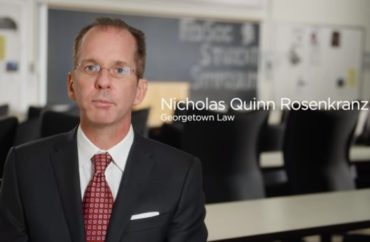 Agrees with alumni who say 'faculty has become too intellectually homogeneous'
For the second time in two years, a Yale alumnus is running for trustee of the Ivy League institution on a platform of free speech and intellectual diversity.
This time, it's a much bigger name: constitutional law scholar Nicholas Rosenkranz.
The Georgetown law professor cofounded Heterodox Academy, which advocates viewpoint diversity among faculty, and serves on the boards of both the Federalist Society and Foundation for Individual Rights in Education.
"A group of alumni approached me and asked if they could put my name forward," Rosenkranz told The College Fix in an email, referring to a group known as Alumni for Excellence at Yale.
"I share many of their concerns about the state of free speech and intellectual diversity on campus, and I am honored that they chose me to help voice these concerns, so I agreed," he said.
His Heterodox Academy cofounder Jonathan Haidt, the New York University social psychologist and pop-culture figure, is giving his campaign a boost as well. Last week Haidt asked Yale alumni among his 171,000 Twitter followers to help get Rosenkranz's name on the ballot for alumni trustee.
To promote his campaign, Rosenkranz said he's using "mailings, social media, and live events," including a Monday conversation with Haidt at the Yale Club of New York City. It's hosted by the William F. Buckley, Jr. Program at Yale.
So far, the reaction seems to be positive, Rosenkranz told The Fix:
I have heard from many alumni who love Yale but who share my concerns that the faculty has become too intellectually homogeneous and that the culture on campus has become distinctly hostile to heterodox opinions and to freedom of speech.
MORE: Journalist runs for Yale trustee to take on 'mob' justice
Yale alumni: Please join me in helping to get @profnqr on the ballot for the Yale Corp. Add your name via this page, by Oct 1. Nick is my friend, and co-founder of Heterodox Academy. Yale needs his voice:https://t.co/1ZhjGfHbpk https://t.co/bP509mPeWv

— Jonathan Haidt (@JonHaidt) September 2, 2019
'The uncomfortable truth is that Yale is falling behind its peers in many areas'
Rosenkranz's campaign is different from journalist and author James Kirchick's 2018 campaign for trustee in one major respect: The Georgetown professor was recruited.
As a foreign correspondent who has witnessed the suppression of speech in other countries, Kirchick felt compelled to challenge similar illiberal trends he saw at Yale, he told The Fix at the time. Yale left his endorsements out of the alumni magazine, and Kirchick failed to make the ballot.
The defining moment for Kirchick was when Yale gave awards to the student leaders of a 2015 mob that had surrounded and berated one of its professors, Nicholas Christakis.
He had defended his wife Erika's opposition to Yale telling students what Halloween costumes to wear, which enraged some students. The Christakises stepped down from their posts in Yale's Silliman residential community, and early childhood development scholar Erika left Yale altogether, though Yale later awarded Nicholas its highest honor.
Since that incident, where Yale's administration was criticized for false equivalence between the Christakises and the student mob, Yale has also dealt with accusations of widespread cheating and the creation of a false "napping while black" narrative.
But it's the Christakis incident that galvanized widespread criticism of Yale for its alleged hostility to free speech and viewpoint diversity, the subject of a 2017 short documentary (below).
Those and other issues mentioned in the documentary, including Yale's heavy bureaucracy, figure prominently in the mission statement of Alumni for Excellence at Yale, which is pushing Rosenkranz's candidacy.
"Recent activities at Yale raise serious questions about the University's future. It seems that not a month goes by without yet another negative report," it says. "The uncomfortable truth is that Yale is falling behind its peers in many areas."
MORE: The Yale 'squid monster' puts student comfort over learning
'The sheer enormity of gathering 4266 signatures is very challenging'
The alumni group specifies five areas of concern: faculty, administration, fundraising, values and tuition.
Faculty salaries lag behind its peer institutions, while Yale ranks in the top five nationally for most bureaucrats per students, the alumni group says: Yale is the "undisputed Ivy League heavyweight champion of bureaucracy." (Harvard's ratio is about half of Yale's.)
Its alumni giving rate is near the bottom of the Ivy League, likely because of public-relations hits in recent years, and tuition, room and board has more than doubled in less than 20 years, according to the group.
"Where did this money go, if not to the University's core academic mission?" it asks. "As other commitments consume ever larger amounts of the budget, investments in faculty, students, and academic pursuits are paying the price."
As a remedy, Alumni for Excellence at Yale advocates "electing the right trustees," and Rosenkranz (left) fits the bill.
"His advocacy for higher education reform is a breath of fresh air. He is a leader in the fight for intellectual diversity, free expression, and robust, open discourse on campus," it says. Rosenkranz is known in his field for "developing a new theory of constitutional interpretation and judicial review," the subject of a pending book by the scholar, according to his Federalist Society page.
He can also help boost Yale's flagging alumni donations, the alumni group implies. Rosenkranz comes from a family that has given "exceptional support" to Yale, and whose name now adorns Rosenkranz Hall, the Rosenkranz Writer-in-Residence, and Rosenkranz Court in Pierson College, another residential community.
MORE: Student goes nuts in confrontation with Christakis about Halloween
The campaign is in the process of acquiring signatures. Rosenkranz was not sure how many signatures he had obtained, estimating "1,000 plus."
Like any campaign, Rosenkranz's faces obstacles and challenges. He told The Fix that "many supportive alumni are doing all they can to help, but the sheer enormity of gathering 4266 signatures is very challenging."
Furthermore, the resistance his campaign has faced can be considered a selling point for his candidacy.
"There have been some hostile comments on social media, the tenor of which seems to be that no one who is politically right of center should hold any important position at Yale," Rosenkranz said. "These comments rather underscore the need for more diverse perspectives on campus."
Does Yale really protect 'the right to think the unthinkable,' as it claims?
One of the organizations he serves is sitting out the endorsement parade, however.
"FIRE does not endorse candidates for college or university board memberships as a matter of institutional policy," Robert Shibley, executive director of the civil liberties organization where Rosenkranz is a board member, told The Fix in an email.
"Of course, we fully support good faith efforts to improve the state of freedom of speech and inquiry at Yale," Shibley added:
We are proud to have Professor Rosenkranz as a member of FIRE's Board of Directors, and we note that Alumni for Excellence at Yale, which has been gathering signatures for his candidacy, has expressed concerns about Yale's adherence to its written commitment to protect "the right to think the unthinkable, discuss the unmentionable, and challenge the unchallengeable" on its campus.
Yale earns a "yellow light" speech-code rating from FIRE. On an individual policy level, the Ivy League school has eight yellow-light policies, meaning they are vague enough to restrict protected speech or restrict a more narrow range of speech.
Two policies are "green light," meaning they don't threaten speech. One of them is the Woodward Report – the 1974 Yale document defending free speech that critics accuse Yale of ignoring.
MORE: Federal judge accuses Yale of ignoring Woodward Report
IMAGE: The Federalist Society/YouTube
Like The College Fix on Facebook / Follow us on Twitter