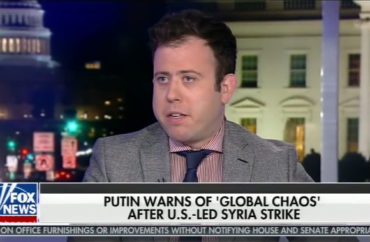 Deadline to make the ballot is tonight
A Yale University alum who is running to become a trustee thought he'd get a boost from alumni endorsements published in the September/October issue of the alumni magazine.
There's only one problem: The magazine unexpectedly didn't publish any "class notes."
James Kirchick needs about 2,000 more signatures by 11:59 p.m. Monday in order to qualify for the ballot, he told The College Fix in a phone interview last week.
The conservative journalist and author of The End of Europe lost his best shot at publicity with rank-and-file alumni owing to the alleged goof by Yale Alumni Magazine, which operates as a department of the university.
Kirchick is campaigning on a free-speech platform that aims to rein in the Ivy League school's "busybody" bureaucrats, trigger warnings and "mob" justice.
He remains optimistic about his chances even with the missing endorsements. Kirchick said that though getting the word out has been more difficult than he anticipated, he's enjoyed the process.
"I've been meeting lots of fascinating Yale alums, seeing and hearing a lot of passion from the souls of people who are concerned about the direction it's headed," he said.
MORE: Yale is a 'squid monster' that prioritizes comfort over learning
Wrong mail file
Kirchick called his quixotic campaign an "uphill climb" in his conversation with The Fix. If the Yale administration has anything to do with it, Kirchick will never take an oath of office.
Candidates for trustee are usually chosen from the Association of Yale Alumni committee. But the bylaws allow a "petition candidate" to run if the candidate collects enough alumni signatures to represent 3 percent of the total ballots distributed in the previous election, according to the previous edition of the alumni magazine, which noted Kirchick's campaign.
This means Kirchick will need at least 4,266 signatures to get on the ballot. A campaign without the support of the university hasn't been attempted in 16 years, according to the Yale Daily News.
Kirchick's campaign, which began in June, rides on the premise that free speech has been hindered at American universities, particularly Yale. He hopes to remind students that free speech is "the most important tool for any sort of aggressive social movement in this country," Kirchick told The Fix.
He's also used Yale's negative publicity to further his campaign. Last week he called attention to a Chronicle of Higher Education survey that found Yale led the Ivy League in the number of "managers" per 1,000 students at 82 – eight more than the next highest, Princeton.
"These administrators are largely responsible for the fact that Yale's tuition has doubled in the 15 years since I was a freshman," he wrote. "Rather than spending $8,591 per student on managers, Yale should be lowering tuition, increasing financial aid, and hiring more faculty."
However, others don't see the benefits of his campaign. Kirchick told The Fix that the alumni magazine quoted a member of the board of trustees who said the issue of campus free speech is exaggerated and blown out of proportion. (The quote does not appear to be visible to the public, as opposed to alumni who are logged into the website.)
MORE: Yale removes white men's portraits from hall to promote diversity
The gaffe by the alumni magazine deprived Yale alumni of learning about Kirchick endorsements from several different classes of Yale graduates, who informed him they submitted notes of support, he told The Fix. This was the first time in the magazine's history that it didn't include the notes, according to Kirchick.
John Spittle of Lane Press, which prints alumni magazines by Yale and other colleges, told The Fix there was an error with labeling the mailing copies. The mail file for the graduate version of the magazine, which doesn't include class notes, was used on the undergraduate version.
"Keep in mind, the covers of each version are identical, and that is part of the reason for the mixup of the two," Spittle said. A reprint of the class notes section has since been mailed to the entire alumni mailing.
The magazine was not aware of this mistake until alumni began calling and asking where their class notes were, Editor Kathrin Lassila said in a phone call with The Fix. (Mark Branch, the magazine's executive editor, was also on the call, which Lassila said was recorded.)
"I apologize to everyone who missed out on this beloved feature—certainly including Jamie and his supporters," Lassila wrote in an email to The Fix, saying "most" undergraduate alumni got the wrong version. She noted that Kirchick's full-page ad was in the print issue that "all of our 135,000 readers" have already received.
In a note to readers published on the magazine website two weeks ago, the editors blamed "the company that is responsible for mailing our magazine" for the mistake and said alumni could still read class notes on its website.
MORE: 'Napping while black' leads to new Yale 'diversity & inclusion' initiatives
Endorsed by Joe Lieberman
Kirchick has received endorsements from a wide variety of prestigious names, including current Yale faculty: Nicholas Christakis, who was famously shouted down by a campus mob in 2015; and former Yale College Dean Donald Kagan, professor emeritus of classics and history. Both were named Sterling professors, Yale's highest academic rank.
Kirchick has previously said that Yale's reaction to the Christakis incident – awarding two student ringleaders its prize for "exemplary leadership" in race relations – helped spur him to run for trustee.
Endorsements also include former Yale professor and bestselling author William Deresiewicz, who indicted elite education in Excellent Sheep; former Major League Baseball Commissioner Fay Vincent; and former attorneys general Edward Meese and Michael Mukasey.
Former senator and Democratic vice presidential candidate Joe Lieberman even endorsed Kirchick. "The University needs leaders on its governing board who will vigorously stand up for a robust culture of free speech, especially when it's challenged," Lieberman wrote, calling Kirchick "an independent thinker with a vision for Yale that is refreshing, bold, and necessary."
MORE: Student goes nuts in confrontation with Yale college master
If you are a Yale alum, consider taking 30 secs to support @jkirchick simply being on the ballot for a position on the Corporation, by filling in a form to get him on said balllot. You don't even have to vote for him later. But it's good for electorate to have choices. Please RT. https://t.co/B5H7A4WO6f

— Nicholas A. Christakis (@NAChristakis) July 10, 2018
'A source of ridicule' for many alumni
The army behind Kirchick's campaign continues to fight because Yale, once a source of pride, has become "a source of ridicule," Kirchick told The Fix. "It's been disappointing and making people upset."
His supporters continue to back him because "they have very fond memories of Yale, they love Yale, and they don't really recognize the institution that it's become. They want to influence it positively," he said.
For Kirchick, free speech on Yale's campus is just the tip of the iceberg that is sinking the American higher education system. He advocates for treating students like adults rather than babies.
"The world is too often an unpleasant place, and you often hear things that you don't like," he said:
The best way to deal with that, I think, is to be exposed to it and to know how to respond to it, not try to censor it and shut it up. You might be able to do that on a college campus, you might be able to get the administrators to pay you and promote your agenda, but that's certainly not the way the world works.
Kirchick called out American higher education for treating students like "customers rather than charges to be educated." For him, school authorities ought to set more expectations in stone rather than try to appease ruffled feathers and injured feelings.
A major culprit of giving students their own way, said Kirchick, is the fact that the number of managers at universities is rapidly increasing, as evidenced by the Chronicle study that found Yale had the fifth-most managers across all colleges.
It has almost twice the number that Harvard has. They are "unnecessary," Kirchick said: "I don't really understand what the purpose of these administrators is."
His solution is strong leadership. Kirchick highlighted the University of Chicago as a stellar example in "drawing a line in the sand" regarding free speech. The private university's top officials notified incoming freshmen two years ago that there are no safe spaces or trigger warnings on campus, and shoutdowns would not be tolerated.
Kirchick is in favor of a similar hard stance for Yale. "I've recommend to the president of Yale and the board that Yale adopt a free speech program where everyone can bring a perspective," he said.
MORE: The feds investigate Yale for anti-Asian admissions practices
IMAGE: Ed Sanora/YouTube
Like The College Fix on Facebook / Follow us on Twitter